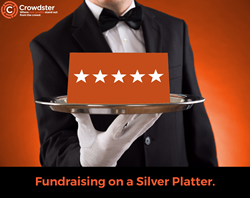 Crowdster delivers to non-profits a range of different services to help them achieve their mission
(PRWEB) March 21, 2017
Crowdster is pleased to announce its latest service, Concierge! Concierge is a turnkey solution that allows non-profits to outsource their fundraising. The goal of Concierge is to help non-profits raise money without making them do all of the heavy lifting. The less work non-profit executives have to do, the more time they can spend focusing on their mission!
Concierge offers customers an impressive range of capabilities and benefits. The service offers event/campaign planning, marketing, and promotion. Customers are assigned a Director of Development to oversee the entire campaign design and execution process. In addition, Event Planners are available to organize fundraising galas and other events as well as manage Direct Mail and Email Marketing. To ensure the collaboration remains a joint venture, all of this is done with the non-profit's executive leadership involved in every step of the process.
In a statement from Crowdster's CEO Joseph Ferraro, he says, "With its Concierge Service, Crowdster delivers to non-profits a range of different services to help them achieve their mission by alleviating the tedium of fundraising and event marketing."
About Crowdster
Founded in 2007, Crowdster is focused on supporting non-profit and for-profit social enterprise organizations to help them achieve their mission. That support is delivered by a powerful online fundraising platform combined with advanced fundraising marketing services including creative services, event planning, email marketing, and other digital marketing services.