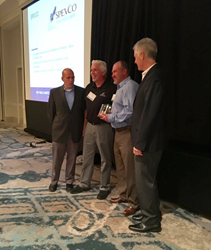 SPEVCO has become a critical piece of the CSX Emergency Response Team allowing CSX to have a high-tech working platform.
(PRWEB) March 16, 2017
CSX rewards companies, teams, and individuals the Award of Excellence in recognition of their performance completing critical projects and commitment to the service, people, and CSX's core values.
"SPEVCO has become a critical piece of the CSX Emergency Response Team allowing CSX to have a high-tech working platform. Their prompt response time and flexibility allows the CSX Incident Response Command Staff to efficiently and effectively manage large scale incidents." - CSX
Tii Tharpe, President, and Chuck Sullivan, Account Executive, accepted the award on behalf of the SPEVCO team. "It means a lot to the SPEVCO family to be recognized by such an outstanding organization for our efforts, craftsmanship, and service." - Tii Tharpe
In 2015, SPEVCO delivered a customized 53' mobile Command & Control Center under a innovative Design-Build contracting method. It functions as an agency coordination hub, first-responder aid station, and local command post. It features conference facilities and live-video capture capabilities from up to 4 miles from the incident site.
After testing, SPEVCO became part of the Emergency Response Team. Awarded a standing on-call contract for the C&C platform, the vehicles is mobilized as needed for any incident on a CSX line or property. The platform is part of SPEVCO's "Four-Hours" program, which guarantees incident response vehicles roll from storage within four hours of client notification.
Special Event Vehicles designs, builds, and operates large emergency response and disaster mitigation vehicles, as well as custom marketing platforms. Since 1973, SPEVCO's talented technicians have been mildly obsessed with building fantastic machines for the US Military, entertainment, consumer marketing, industrial and medical markets. More information is available at http://www.spevco.com.
CSX, of Jacksonville, Florida, is a premier transportation company providing rail, intermodal and rail-to-truck transload services and solutions. CSX has played a critical role in the nation's economic expansion and industrial development for 190 years. CSX connects every major metropolitan area in the eastern United States as well as linking 240+ short-line railroads and more than 70 ocean, river and lake ports. More information about CSX Corporation is available at http://www.csx.com.