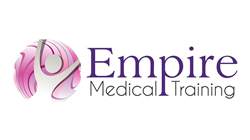 Rx Medical Web is going to help our clients grow their business and increase revenue because they will be advertising their new services to patients.
Fort Lauderdale, FL (PRWEB) March 21, 2017
One of Empire Medical Training's goals is to help their students learn more about how to create new revenue streams in their practice. Empire Medical Training provides a wide variety of courses that show participants how to implement proper techniques and procedures in services like aesthetics, pain management, and weight loss. With these added services members have learned, the next step for the members includes building a website and marketing their business.
Rx Medical Web is able to provide Empire Medical Training attendees with a one-on-one consultation at any of the seminars and workshops in regards to building a new website and beginning to market their practice online. Each member will now have the chance to meet with an expert marketing advisor to develop a personalized and effective business-marketing plan. As Dr. Stephen Cosentino, President and Founder of Empire Medical Training, states, "Rx Medical Web is going to help our clients grow their business and increase revenue because they will be advertising their new services to patients. In addition, with Rx Medical Web working solely for Empire Medical Training, we are able to offer our members a discounted rate on their marketing and website efforts."
Empire Medical Training has worked with Rx Medical Web over the years and is impressed with the testimonials and compliments from customers. Before the acquisition, Rx Medical Web had limited availability to work with members attending the Empire Medical Training workshops. This acquisition has been in the works for over two years and has helped the vision of providing full-time services to Empire Medical Training clients come to fruition.
Rx Medical Web was founded in 2008 and has been building websites and creating marketing plans for physicians and other healthcare professionals ever since. Rx Medical Web specializes in the niche group of medical practices to help them expand their businesses. With Stephen Cosentino as their President, he is able to provide practices with proper content for their medical sites as well as email marketing campaigns.
Empire Medical Training has been training Physicians and Health Care Practitioners since 1998, longer than any other procedural training institution. With over 45,000 graduates in specialties such as Aesthetics, Anti Aging/Weight Management Medicine, and Pain Management, Empire Medical Training is renowned throughout the United States and abroad as the premier academy for providing academic excellence. Dr. Stephen Cosentino pioneered ways to add new procedures and services as well as business strategies to a practice and improve patient care. With Dr. Cosentino's commitment and dedication to the specialty and the field of medicine, Empire Medical Training is steadfast to developing new training programs and topics to broaden the scope of the primary care practitioner. All Empire courses are created through mainstream medicine using the most current technologies and standards of care.
For more information on Empire Medical Training, please visit their website or call 866-366-1576.