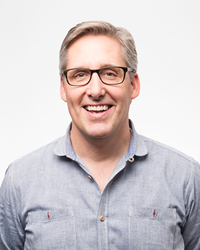 I'm honored to receive this prize from Dickinson College and flattered just to be mentioned with people like Bill McKibben, Mark Ruffalo and Lisa Jackson. And, we are going to put this prize to work right away.
Carlisle, Pa. (PRWEB) March 08, 2017
Dickinson will present global conservation leader Brett Jenks with The Sam Rose '58 and Julie Walters Prize at Dickinson College for Global Environmental Activism. The $100,000 prize was created to focus attention on the need to reduce the impact of human lives on the planet, particularly given the rising population predictions for this century.
Jenks is the President and CEO of Rare, a global conservation organization that uses its expertise in human behavior change to create enduring and sustainable climate-smart solutions for both people and nature. The prize money will help Rare launch a major initiative on behavioral insights for conservation and advance its mission of inspiring change so people and nature thrive.
"I'm honored to receive this prize from Dickinson College and flattered just to be mentioned with people like Bill McKibben, Mark Ruffalo and Lisa Jackson," said Jenks. "And we are going to put this prize to work right away."
During his tenure with Rare, Jenks has established large-scale partnerships with Bloomberg Philanthropies, The Nature Conservancy, Conservation International, Oceana, Environmental Defense Fund, UNESCO, AVEDA, Encourage Capital and the ministries of environment and fisheries of many nations, as well as partnerships with hundreds of community-level partners.
Having grown Rare nearly 3,000 percent since 2000, Jenks is now focused on helping the organization globally scale climate-smart conservation solutions, including sustainable management of small-scale fisheries and coastal habitats and of forests and watersheds to ensure reliable and clean freshwater supplies. "We train local leaders and communities to adopt sustainable approaches to managing natural resources, which help secure community livelihoods and protect the ecosystems upon which they depend," Jenks said.
Prior to his more than two decades with Rare, Jenks was a journalist and filmmaker, and served as the Costa Rica field coordinator for WorldTeach, a nonprofit based at the Center for International Development at Harvard University. He is a Catto Fellow, Braddock Scholar and McNulty Prize laureate with the Aspen Institute, as well as a member of the Closed Loop Fund's investment committee and an advisor to the Grantham Trust.
In addition to the monetary award, Dickinson's Rose-Walters Prize includes a short residency in the 2017-18 academic year. During that residency, Jenks will meet with Dickinson's many student environmental-leadership groups and faculty, participate in class discussions and give a public presentation, with exact dates to be determined.
Previous recipients of the Rose-Walters Prize are Pulitzer Prize-winning author Elizabeth Kolbert; award-winning actor and environmental activist Mark Ruffalo; author and environmental activist Bill McKibben; Apple's vice president of environmental initiatives and former EPA administrator Lisa Jackson; and award-winning nature photographer James Balog.
About Dickinson:
Dickinson is a highly selective private liberal-arts college of 2,400 students and a national leader and innovator in sustainability education. Students are challenged through classroom studies, living laboratories, service learning, student-faculty research and study abroad to build the knowledge and skills that are needed to create a sustainable world.
Opportunities for hands-on learning include working with community groups to protect local watersheds and air quality, learning about solar energy, growing food on the college's USDA-certified organic farm and producing biogas from food waste. Sustainable practices and values are underscored by a commitment to climate neutrality, green building practices, socially responsible investment and diverse community engagement.
Dickinson's achievements and leadership have earned the highest recognitions from the Association for the Advancement of Sustainability in Higher Education, Sierra Magazine, the Sustainable Endowments Institute, The Princeton Review and Second Nature. http://www.dickinson.edu.