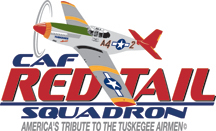 "We offer a truly one-of-a-kind adventure that resonates with all ages,"
Yuma, Arizona (PRWEB) March 10, 2017
The CAF Red Tail Squadron is proud to announce that their unique tribute to the Tuskegee Airmen has been added to the lineup for the 2017 Yuma Airshow. Be inspired by the Tuskegee Airmen – the nation's first black military pilots and their support personnel – with the CAF Red Tail Squadron's RISE ABOVE Traveling Exhibit mobile movie theater and World War II P-51C Mustang aircraft. This fully restored vintage fighter is making its debut at the 2017 Yuma Airshow after a year of restorations.
After an incident last year resulted in 11 months of repairs, the Squadron's P-51C Mustang will return to flight at the airshow to wow the audience with its aerobatic tribute to the Tuskegee Airmen. The aircraft will also be on static display for up-close viewing, a rare treat for attendees as it is one of only a few like it still flying. The free RISE ABOVE Traveling Exhibit mobile movie theater will be open at the air show Saturday, March 18, featuring the original short film "Rise Above" that takes the audience on a journey through time – and then through the air. The theater's dynamic 160-degree panoramic screen creates the sensation of being in the cockpit soaring above the clouds in the P-51C Mustang, the signature aircraft of the Tuskegee Airmen.
"We offer a truly one-of-a-kind adventure that resonates with all ages," said CAF Red Tail Squadron Leader and pilot Doug Rozendaal, who will fly the Mustang in the air show. "It's much more than a history lesson. The Tuskegee Airmen's ability to triumph over adversity serves as a means to inspire others to RISE ABOVE obstacles in their own lives and achieve their goals."
All are welcome to join the CAF Red Tail Squadron at the free family-friendly 2017 Yuma Airshow to be held at the Marine Corps Air Station in Yuma, AZ March 17 and 18. To learn more, visit http://www.yumaairshow.com and http://www.redtail.org.
About the CAF Red Tail Squadron
The CAF Red Tail Squadron is a volunteer-driven non-profit organization dedicated to educating audiences across the country about the history and legacy of the Tuskegee Airmen, America's first black military pilots and their support personnel. RISE ABOVE: Red Tail, their three-fold outreach program, includes a fully restored WWII-era P-51C Mustang, the signature aircraft of the Tuskegee Airmen; the RISE ABOVE Traveling Exhibit 53' mobile theater featuring the original panoramic film "Rise Above"; and resource materials for teachers and youth leaders. Each year, they embark on a nine-month cross-country tour that includes appearances at air shows, schools, museums and community events. The group's Six Guiding Principles – Aim High, Believe In Yourself, Use Your Brain, Be Ready To Go, Never Quit and Expect to Win – serve as the foundation for their outreach programs and are based on the experiences and successes of the Tuskegee Airmen. The CAF Red Tail Squadron is a 501(c)(3) charitable organization part of the Commemorative Air Force (CAF). Learn more at
http://www.redtail.org.
###