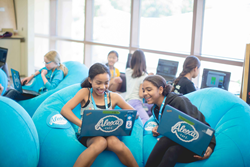 Campbell, Calif. (PRWEB) March 08, 2017
iD Tech's commitment to increasing female campers to 25% would represent almost 12,000 girls attending camp this year, which is a 325% increase in the number of girls over 2013.
Studies have shown that girls and boys do not differ significantly in their abilities when it comes to mathematics and science, but there is a disparity in their interest and confidence in STEM subjects. "Closing the gender gap in STEM careers is not a new initiative for our company," says Nicole Hutson, Systems Administrator for iD Tech. "We have been actively working to improve the enrollment of girls at our camps and giving them a place to find confidence and thrive."
Female numbers have steadily grown as iD Tech has implemented initiatives to create compelling, meaningful courses and programs that spark the interest of girls. So far these changes have ranged from simple fixes, such as modifying camp courses to be more inviting, to more substantial changes, such as the 2014 launch of Alexa Café, an all-girls program where students are mentored in STEM subjects by women who are either earning a degree in or working in a STEM field. Additionally, the company has a robust scholarship program and several partnerships with organizations that are sponsoring girls to attend camp that will also contribute to hitting the 25% mark.
"Witnessing the dramatic increase in the number of girls across all our programs since 2014 has been one of the most rewarding results of my career," says Joy Meserve, Chief Program Officer of iD Tech. "All of us at iD Tech are deeply committed to empowering girls to become powerful women with their voices represented in STEM."
Women have been at the heart of iD Tech since 1999, when Alexa Ingram-Cauchi and her mother, Kathryn Ingram, co-founded the Silicon Valley-based company. In an industry where many companies have a diversity plan in place but are still struggling to move the needle forward, iD Tech has been making it happen since day one.
"We have an employee base of 50% women, at all levels of the company, and we are proud to not only be an example of gender equality in the workplace, but also challenge ourselves to be at the forefront of closing the STEM gender gap for the next generation," says Robby Little, National Director of Operations for iD Tech. "We know that 25% girls at our camps this summer is just the beginning of the next wave as we push ourselves to 50%."
About iD Tech
iD Tech is the leader in summer STEM education programs for students ages 6–18. Over 275,000 students have attended iD Tech since 1999. Camps are held at over 150 prestigious campuses in the United States, including Stanford, MIT, Harvard, and many others. In addition to iD Tech Camps for ages 7–17, iD Tech also offers early-education STEM programs, all-girls tech camps, teen-only academies, and an online learning platform. Learn more at iDTech.com.