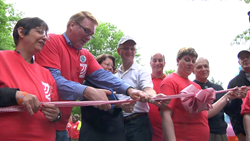 Crowdster is proud to be working with and supporting the agency.
(PRWEB) March 20, 2017
Crowdster is very excited to announce its newest client, The Arc of Mercer County. Crowdster is providing The Arc with a new service, Concierge. Concierge outsources fundraising to Crowdster so that non-profits can focus on their mission. Crowdster is currently helping to plan The Arc's annual walkathon. The Arc has now outsourced their event planning, mailing campaigns, and user registration needs to Crowdster.
Crowdster has taken the heavy lifting of event planning and fundraising off of The Arc's shoulders. For larger non-profits like this one, outsourcing can be especially beneficial, giving executive leaders the freedom to spend less time planning and more time doing. To ensure that the collaboration truly remains a joint effort, The Arc is fully involved with the planning and fundraising. To keep things running smoothly, Crowdster dedicated a team to work exclusively with The Arc, and that team is available whenever they are needed.
In a statement from Crowdster CEO Joseph Ferraro, he says, "The Arc of Mercer County's mission - providing developmental and recreational opportunities for people with disabilities - is very noble, and Crowdster is proud to be working with and supporting the agency."
About Crowdster
Founded in 2007, Crowdster is focused on supporting non-profit and for-profit social enterprise organizations to help them achieve their mission. That support is delivered by a powerful online fundraising platform combined with advanced fundraising marketing services including creative services, event planning, email marketing, and other digital marketing services.
About The Arc of Mercer County
The Arc of Mercer County is a grassroots, family-focused organization dedicated to creating opportunities for people with intellectual and developmental disabilities (I/DD) to achieve their goals. Like the executive leaders at The Arc, the Crowdster team believes every individual is a valued, contributing member of their community. Crowdster's focus is to provide those it serves with the resources, support, and services needed to reach their highest level of independence regardless of diagnosis and at all stages of life.