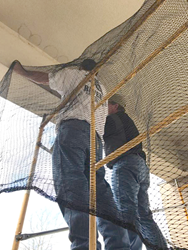 Dean Wharton from Raven Services says the bird netting has done the job and has kept the facility swallow free.
Irvine, CA (PRWEB) March 09, 2017
Coming to the aid of a dialysis clinic in Palestine, Texas, the leader in professional grade bird control products for commercial, industrial and residential applications provided its time-tested Heavy Duty Bird Netting to solve a nagging and potentially unhealthy pest bird problem.
The dialysis clinic in Palestine, Texas was having a problem with barn swallows nesting and roosting in an entry awning and carport where patients arrive and depart. The birds were not only creating a mess and a health hazard with their nests and droppings, but some swallows were "dive bombing" patients as they arrived and departed the facility.   
Barn Swallows are protected by the Migratory Bird Treaty Act of 1918, which makes it illegal to intentionally capture, kill or disrupt any migratory bird or the nests and eggs of such birds. A humane deterrent approach was the only solution. What's more, the product had to be installed quickly on a weekend during the facility's least busy times.
The facility's owner enlisted the help of Raven Services to install Bird B Gone's black, ¾-inch Heavy Duty Bird Netting to solve the problem. Using Bird B Gone specially designed installation hardware—cables, turnbuckles, anchors, etc.—the netting covering over 900 square feet was installed on Saturday and Sunday to minimally impact the facility's operations. Raven Services noted that Bird B Gone's install video had been helpful.
Bird B Gone's high-density, flame resistant (270°F melting point) polyethylene knotted netting satisfied the rigorous demands of this venue. Rot-proof, non-conductive and stable in sub-zero temperatures, the netting is comprised of 12 monofilaments, each 12/1000" thick with U.V. stabilizers added. The monofilaments, twisted together to produce a strong twine with 410-430 twists per meter, are ISO 1806 protocol mesh tested in excess of 116 lbs.
The humane, effective bird deterrent kept the barn swallows from nesting under the facility's entry awning and carport. No more barn swallows. No more swallow-related health hazards for patients, families and staff. Raven Services plans to use Bird B Gone netting for future installs.
Bird B Gone is the world's largest manufacturer and distributor of bird control products, providing effective and humane solutions to a bird-free environment. The company provides advice; training and installation services for those who need help with these and other bird control measures. For the complete line of products from Bird B Gone, call 1-800-392-6915; fax: 949-472-3116 or visit our website at http://www.birdbgone.com, e-mail: nobirds(at)birdbgone(dot)com.