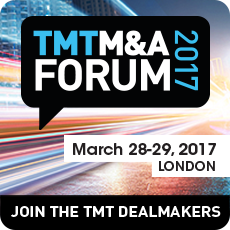 London (PRWEB UK) 9 March 2017
Chief executives from leading European telecom and media businesses Liberty Global, Altice Group, Vivendi, Endemol Shine and Entertainment One will discuss the likely impact of mergers and acquisitions on Europe's rapidly transforming telecom, media and tech sector in the opening panel of TMT M&A Forum 2017 in London on March 28.
Michael Knott, senior managing director and head of Telecom, Media and Technology (TMT) for Europe, the Middle East and Africa (EMEA) at FTI Consulting, will chair the Telecom and Media Leaders Panel which opens two days of debates on "How convergence is driving M&A in telecoms, media and tech" for 300 of the leading executives and investors in the sector globally.
"Mergers and acquisitions will continue to play a significant role in transforming the Telecom, Media and Tech sectors over the next 18 months and there are a number of different strategies available to pursue growth in a rapidly transforming industry," said Knott. "With five of Europe's biggest and most ambitious telecom and media businesses represented on the panel it will be a fantastic opportunity to discuss the likely impact of consolidation and the new opportunities the convergence of digital communications presents for growth strategies."
Key speakers on the opening session are: Amos Genish, Chief Convergence Officer, Vivendi; Jim Ryan, SVP and Chief Strategy Officer, Liberty Global; Régis Turrini, Head of Strategy, Regulation and Government, Altice Group; Wim Ponnet, Group Director of Strategy & Comm Dev., Endemol Shine Group and Adam Hurst, Chief Financial Officer, Entertainment One Television.
The event features over 50 sessions and meetings on key issues in TMT M&A with 150 key speakers announced representing the leading Telecom, Media, Digital and Tech companies, Investors, Financial Institutions and Advisers.
Other key sessions at the event include: TMT Leader Strategies; Digital Transformation; TMT M&A; Enterprise Cloud Consolidation; Datacentres and Hosting; TMT Infrastructure M&A; Health; Mobile Towers; TV, Video, Broadcast and Satellite; Financing TMT LBOs; Regulation and Risk; Fintech; The Internet of Things; Artificial Intelligence; Virtual Reality; Investor Strategies and IT Services and Software.
TMT M&A Forum 2017, which is now in its 5th year, takes place in London on March 28-29, gathering key industry, finance and advisory executives to discuss global opportunities for partnership and investment across telecoms, media, digital and tech.
For more information, go to http://www.tmtfinance.com/merger/programme