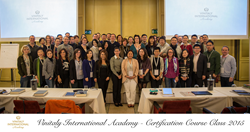 We decided to accelerate the certification program in both US and China because we simply needed more Italian Wine Ambassadors to be effectively targeting these markets
Verona, Italy (PRWEB) March 08, 2017
2017 will be a pivotal year in the life of Vinitaly International Academy (VIA). For the first time ever, VIA will hold its first certification course in USA (June 2017) and in China, in Shanghai and Beijing (September 2017). In addition, VIA plans to roll out its first entry-level Italian wine course for the public, the "Italian Wine Maestro" level, allowing all wine lovers and non-professionals who enjoy wine to become more knowledgeable and sure about one of the world's most fascinating, if at times complex, Italian wines.
Stevie Kim, the founder of Vinitaly International Academy, explains this recent development, "The reason we've decided to accelerate the certification program in both US and China was that we simply needed more, many more, Italian Wine Ambassadors to be effectively targeting these markets. There are currently 31 Italian Wine Ambassadors and Experts in US and China; we are looking to increase that number about three-folds by the end of the year. Italian Wine Ambassadors in their turn then can also tackle the local territories with a structured basic level course 'Maestro' program. We are currently at our third edition of the VIA certification program in Verona but we also wanted to respond to the needs of those who cannot take so much time off from their commitments to travel all the way here to Vinitaly. Once they've passed the course, naturally, they will have more the reason to travel to Italy."
The VIA Certification Course was created and is taught by Ian D'Agata, generally regarded as the world's foremost expert on Italian wine grapes and wines. Scientific Director of VIA, he is also the Senior Editor of Vinous and has written numerous award-winning books and guides. Among his most recent publications, Native Wine Grapes of Italy, was the 2015 Louis Roederer International Wine Book Awards Book of the Year, named in the Top 10 wine books of the year by the Financial Times, the LA Times, and the NY Times, and is widely considered to be the gold standard on the subject of Italian grapes and wines. Thanks to D'Agata's presence, the VIA certification course represents a one and only opportunity for wine professionals to gain extensive, in-depth, insider's knowledge on the fascinating but ultimately vast and complex subject of Italian grape varieties and wines.
From the 3rd to the 7th of April 2017, VIA will hold the third edition of its Certification Course in Verona with candidates from all around the world taking part in a five-day intensive course made up of intensive nine hour days of classroom lectures and wine tastings. The aim of the Certification Course is to enable all professionals who love Italian wine to speak of it in a unified and organized manner, with true in-depth knowledge. At the end of each course, a written and oral exam will allow candidates to achieve two levels of certification: Italian Wine Ambassador (IWA) and, the highest VIA level, Italian Wine Expert (IWE). Approved VIA certified wine specialists, once they have passed a short VIA Educator two-day course (with on-line material and one live presentation), will be able to support VIA in teaching the courses around the world and in broadcasting the excellence of Italian wines.
No other international certification program offers this kind of comprehensive study of Italian wine grapes and wines at the moment. Understandably so, as the wines made from native grapes remain largely obscure within each regions, at times even to many Italians. Not surprisingly then, even for those individuals holding Master of Wine or Master Sommelier diplomas, Italy remains somewhat of an enigma and an untapped resource for the discovery of intriguing, authentic, true-to-type new wines, also despite Italy's ranking as the world's largest wine producing country. In fact, one of the strong suits and much loved aspects of VIA is the opportunity wine students have to taste and learn about small volume, artisan wines that are not just archetypes of the Italian grape varieties they are made with but that are also virtually impossible to find in their home markets. This, coupled with the unique opportunity to be taught by Ian D'Agata, makes the VIA certification course an absolute must for anyone serious in learning about Italian wine at diploma and degree level.
In fact, a strong hint of the way the course has grown over the years is to be found in the fact that this year's edition will see the participation, for the first time, of individuals who hold Master of Wine and Master Sommelier degrees, such as Nicholas Paris MW and Kathy Morgan MS in addition to other influential figures such as Jason Turner, Giuseppe Lo Cascio and Levi Dalton. Along with 6 Italian Wine Experts and 55 Italian Wine Ambassadors who have been certified during the first and second edition, they will all play an important role in rolling out the entry level wine course catered for the public in their own countries.
Full bios of the VIA candidates of 2017 can be found at http://www.vinitalyinternational.com/vinitaly-international-academy/candidates; the profiles of the 6 Italian Wine Experts and 55 Italian Wine Ambassadors certified during the previous editions of the Course are available at http://www.vinitalyinternational.com/vinitaly-international-academy/expert-ambassador.
About:
Veronafiere is the leading organizer of trade shows in Italy including Vinitaly (http://www.vinitaly.com), the largest wine and spirits fair in the world. During its 50th edition Vinitaly counted more than 4,100 exhibitors on a 100,000+ square meter area and 130,000 visitors from 140 different countries. The next edition of the fair will take place on 9 - 12 April 2017. The premier event to Vinitaly, OperaWine (http://www.operawine.it) "Finest Italian Wines: 100 Great Producers," will unite international wine professionals on April 8th in the heart of Verona, offering them the unique opportunity to discover and taste the wines of the 100 Best Italian Producers, as selected by Wine Spectator. Since 1998 Vinitaly International travels to several countries such as Russia, China, USA and Hong Kong thanks to its strategic arm abroad, Vinitaly International. In February 2014 Vinitaly International launched an educational project, the Vinitaly International Academy (VIA) with the aim of divulging and broadcasting the excellence and diversity of Italian wine around the globe. VIA this year launched the second edition of its Certification Course and today counts 55 Italian Wine Ambassadors and 6 Italian Wine Experts.