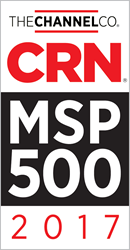 Year over year we continue to receive industry recognition for our commitment towards our customers and the services we provide that make IT teams better
(PRWEB) March 09, 2017
CentraComm announced today that CRN®, a brand of The Channel Company, has named CentraComm to its 2017 Managed Service Provider (MSP) 500 list in the Managed Security 100 category. This annual list recognizes North American solution providers with cutting-edge approaches to delivering managed services. Their offerings help companies navigate the complex and ever-changing landscape of IT, improve operational efficiencies, and maximize their return on IT investments.
In today's fast-paced business environments, MSPs play an important role in helping companies leverage new technologies without straining their budgets or losing focus on their core business. CRN's MSP 500 list shines a light on the most forward-thinking and innovative of these key organizations.
"Year over year we continue to receive industry recognition for our commitment towards our customers and the services we provide that make IT teams better. Our added focus in recent years towards cloud and big data has proven to be a valuable tool for customers in our highly-connected society," said Lynn Child, President of CentraComm.
"Managed service providers play an increasingly important role in the day-to-day operations of businesses across North America," said Robert Faletra, CEO of The Channel Company. "MSPs help organizations streamline their spending, effectively allocate limited resources, and benefit from advanced expertise in the latest technologies. We congratulate the service providers on CRN's 2017 MSP500 list, who have continually succeeded in meeting their customers' changing needs and help them get the most out of their IT investments."
The list is divided into three categories: the MSP Pioneer 250, recognizing companies with business models weighted toward managed services and largely focused on the SMB market; the MSP Elite 150, recognizing large, data center-focused MSPs with a strong mix of on-premise and off-premise services; and the Managed Security 100, recognizing MSPs focused primarily on off-premise, cloud-based security services.
The MSP500 list is featured in the February 2017 issue of CRN and online at http://www.CRN.com/msp500.
About the Channel Company
The Channel Company enables breakthrough I.T. channel performance with our dominant media, engaging events, expert consulting and education, and innovative marketing services and platforms. As the channel catalyst, we connect and empower technology suppliers, solution providers and end users. Backed by more than 30 years of unequaled channel experience, we draw from our deep knowledge to envision innovative new solutions for ever-evolving challenges in the technology marketplace. http://www.thechannelco.com
About CentraComm
CentraComm is an IT security and infrastructure provider with a regional focus and global reach. Our around-the-clock engineering talent and value-added services deliver peace of mind for our customers. We work with Fortune 50, educational institutions, and small to medium-sized businesses to allow them to innovate efficiently and remain secure.  
For more information on CentraComm, visit them online at http://www.centracomm.net