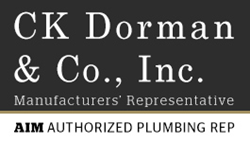 Cranston, RI USA (PRWEB) March 09, 2017
AIM is pleased to announce the addition of CK Dorman & Co., Inc. as its new representative for AIM's complete line of solder materials for the plumbing industry. CK Dorman & Co., Inc. will provide assistance to AIM customers in Kansas and Missouri in finding optimal solutions for their soldering needs.
The experience CK Dorman & Co., Inc. brings will make for an excellent addition to AIM's Plumbing Division team of representatives. With this addition, AIM will continue to solidify client relations in the Midwest.
For more information about CK Dorman & Co., Inc., please contact Patrick Enderson at 816-659-9812 or visit http://www.ckdorman.com/.
About CK CK Dorman & Co., Inc.
CK Dorman & Co., Inc. has been in business as a manufacturers' representative since 1960. Its territory covers the state of Kansas and Western Missouri. CK Dorman & Co., Inc. is committed to providing outstanding service and support to both customers and manufacturers.
About AIM Alloys Division
AIM Alloys specializes in standard and custom industrial-grade metals and alloys for casting, plating, and soldering for the industrial and plumbing industries. AIM's manufacturing is ISO 9001 and ISO 14001 certified and products are manufactured using high-purity metals. AIM offers one of the most robust support systems in the industry, providing metallurgical assistance, extensive inventory, and flexibility in formulas, shapes, quantities. AIM's direct sales force and authorized distributors and representatives guarantee reliable and immediate service. For more information on AIM Alloys, visit http://www.aimalloys.com.