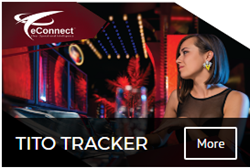 "Failure to comply with Title 31 regulations is a large cost to any casino. We're very excited to offer this solution to help our customers manage this," commented Henry Valentino, CEO of eConnect
(PRWEB) March 08, 2017
eConnect, a leading provider of analytics for the gaming industry will be demonstrating one of its highly anticipated solutions which allows real time analysis of Ticket In Ticket Out data for suspicious activity. eConnect's TITO Tracker module combines real time data from casino systems with surveillance video to allow operators to track and investigate TITO tickets throughout the casino floor. The breadcrumb feature provides operators a method to quickly track lost and stolen tickets as they move from machine to kiosk to cage.
Every year millions of dollars in fines are paid by the casino industry related to Title 31 (anti-money laundering) regulations. TITO tickets are the primary instrument for money laundering scams and many casinos have few ways to crack down on this activity.
"Failure to comply with Title 31 regulations is a large cost to any casino. We're very excited to offer this solution to help our customers manage this," commented Henry Valentino, CEO of eConnect, "and are thrilled with the response it has already received."
While eConnect's technologies integrate with most leading hardware and software systems, customers of Scientific Games can get a close look at their Empower Conference taking place at the Planet Hollywood Casino Resort in Las Vegas March 7-9, 2017.
About eConnect
eConnect™ is a cutting-edge technology company based in Las Vegas, NV that develops analytic applications for the Hospitality and Gaming industry. The company's software seamlessly integrates multiple data sources such as point-of-sale, casino systems, and people counting systems with digital video to improve employee efficiency, increase profitability and enhance the guest experience. eConnect's software offers rapid, measurable ROI. The software tools are world-renowned for their ability to discover previously unknown problems, thereby eliminating sources of financial loss and correcting operational problems. For more information visit http://www.econnectglobal.com.