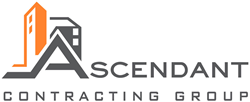 Altamonte Springs, FL (PRWEB) March 10, 2017
Today Guardian Contractors Network announced that it has changed its company name to Ascendant Contracting Group. The name change will further illustrate the strength of their superior construction services and mission to fully support their customers throughout the journey of home or commercial property restorations and renovations.
"Our mission is to put our experience and capabilities to work to alleviate our customers' stress as their home or business is restored after a remodel or catastrophe," says Sean Wydronkowski, Chief Operating Officer at Ascendant Contracting Group. "We felt the name Ascendant, which means moving upward with strength and power, was a great representation of this goal at a time when the company is seeing tremendous growth and momentum."
Ascendant specializes in water, fire, wind, and hail losses and planned renovations for commercial and residential properties. Their team will plan with and educate customers about the entire construction process and will work directly with adjusters for insurance reconstructions from the inception of the loss.
Ascendant will continue to provide the superior quality construction services that have contributed to Guardian's positive reputation and will not have a change in leadership or management. In addition to the name change, the company has a new logo and new website at http://www.ascendantpro.com.
About Ascendant Contracting Group
Ascendant Contracting Group is known for unparalleled construction services for commercial and residential property owners during unforeseen water, fire, wind or hail losses and planned renovations. Ascendant was founded by lifelong construction and insurance industry veterans who put their years of combined experience to work to relieve the stress from their customers during the construction journey. Ascendant customers include architects, engineers, insurance carrier networks, commercial property managers and individual homeowners. Headquartered in Altamonte Springs, Ascendant currently serves customers in the greater central Florida area to the east coast beaches with plans to grow their service coverage statewide. See more about Ascendant and their capabilities at http://www.ascendantpro.com.