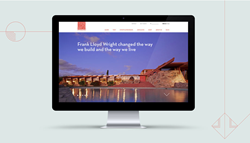 "We looked to Wright's guiding principles of simplicity, detail, and form and function to create a website that celebrates one of the world's most iconic architects and his work." - Jeff Ficker, Chief Creative Officer at Casual Astronaut
Phoenix, Arizona (PRWEB) March 09, 2017
Casual Astronaut, a Phoenix-based content marketing and design agency, has completed the design and development of the new Frank Lloyd Wright Foundation website: http://franklloydwright.org/. With 2017 marking the 150th anniversary of the legendary architect's birth, the new site celebrates Wright's work and lasting impact on contemporary architecture and design.
"For Wright, good design had to be more than beautiful — it had to be purposeful," said Jeff Ficker, Chief Creative Officer at Casual Astronaut. "We looked to Wright's guiding principles of simplicity, detail, and form and function to create a website that celebrates one of the world's most iconic architects and his work."
The new website deploys design elements for strategic purposes. For instance, sparing use of Wright's signature red draws attention and entices users to click, while subtle uses of sky blue and prairie-field green evoke Wright's love of nature. And the geometric shapes that inspired and grounded so much of the architect's work punctuate headlines and other key elements.
The site features a database of Wright's work and continued influence on life, culture and art. Biographical pages can be skimmed, scrolled and filtered by topic and interest, and project pages are searchable and easily sortable by type, style, date and locale. Further, Casual Astronaut helped reintroduce The Whirling Arrow, a Taliesin West journal that has been updated for the digital age as an online hub dedicated to engaging readers with events, research and the foundation's ongoing work.
"The new website brings Frank Lloyd Wright's legacy to life, creating a digital home that celebrates his work and relevance to contemporary technology, architecture and design," said Jeff Goodman, Director of Marketing and Communication for the Frank Lloyd Wright Foundation. "We're really excited about the opportunity this brings to introduce America's greatest architect to a new generation."
Along with the new website, Casual Astronaut designed a special, 150th anniversary site that will highlight the special events and programs happening across the world to commemorate the sesquicentennial of Wright's birth. This site is set to launch later this month.
For an in-depth look at design of the new FrankLloydWright.org, read Wright, in the Digital Age on The Whirling Arrow.
_______
About Casual Astronaut
Casual Astronaut is a content marketing agency that helps brands create quality content to attract, engage and retain customers. Its founders are experienced veterans of the marketing industry, with roots in publishing, content and digital marketing. Our team is made up of pioneers in this new age of marketing, marrying content strategy, creation, distribution and measurement. We work with brands to create the articles, videos, publications and social media content that attract audiences and engage consumers. Get to know us better on Twitter, Facebook and Instagram.
About the Frank Lloyd Wright Foundation
The Frank Lloyd Wright Foundation, established by Wright in 1940, is dedicated to preserving Taliesin and Taliesin West for future generations, and inspiring society though an understanding and experience of Frank Lloyd Wright's ideas, architecture and design. Wright's legacy, reflected in contemporary work around sustainable and affordable architecture and excellence in design, is of even greater importance today than in his own time. The Foundation is forward-looking, but rooted in the history of the Taliesin communities. Please visit FrankLloydWright.org for more information on tour schedules, cultural and educational experiences and events.
# # #