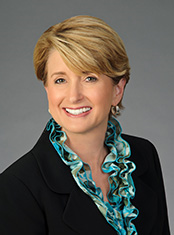 Julie is a distinguished leader, dedicated to her practice and committed to bettering the financial livelihood of her clients.
Atlanta, GA (PRWEB) March 09, 2017
Atlanta Financial Associates, an independent financial advisory firm, today announced that Julianne F. Andrews, MBA, CFP®, AIF®, has been recognized by Forbes in their ranking of America's Top Women Wealth Advisors for 2017. The inaugural list was published on Forbes.com earlier this month. Andrews, who is ranked 155 nationally, is one of only four advisors from the state of Georgia.
Andrews is a Principal and co-founder of Atlanta Financial Associates. With more than 25 years of comprehensive wealth management experience, Andrews provides holistic financial planning, asset protection and taxation strategies for physicians, professionals and individuals at or nearing retirement. 
"Congratulations to Julie Andrews on being recognized among this list of dynamic financial advisors," said Wayne Bloom, CEO of Commonwealth, the broker/dealer that nominated Andrews. "Julie is a distinguished leader, dedicated to her practice and committed to bettering the financial livelihood of her clients. We value our partnership with Julie and her individual contributions to the Commonwealth community, and we will continue to offer the support her business demands."
"For more than a quarter century I've worked diligently alongside clients to understand their individual goals and help them build plans for financial success," stated Andrews. "For me, this award and the accompanying recognition pays testament to the commitments I've made and continue to make to those individuals and their families every day."
The ranking of Forbes' Top Wealth Advisors(1) (America's Top Women Wealth Advisors) is based on an algorithm of qualitative and quantitative criteria, including a minimum of seven years of experience, a minimum of $1 million in production, and the weighing of factors including revenue trends, assets under management, compliance records, industry experience, and best practices (gathered through telephone and in-person due-diligence interviews). Shook Research also employs an opinion-based weighting system that prioritizes its preferred "best practices," which include business models, activities, processes, and structure. Overall, 2,723 advisors were considered, and 200 (7.3 percent of candidates) were recognized. View the full methodology(2) that Forbes developed in partnership with SHOOK Research, please visit https://www.forbes.com/sites/rjshook/2016/08/03/shook-research-methodology-forbes-top-wealth-advisors/#2bdbd1664c59.
ABOUT ATLANTA FINANCIAL
Since 1992, people have been turning to the advisors at Atlanta Financial Associates to help them build a wealth management plan that reflects their vision and can stand the test of time. Our ability not only to meet this expectation, but to exceed it, is based in large part on the commitment we make to every one of our relationships. We take the time to understand your full life picture—your values and perspectives, as well as where you are now and where you want to go. Adding to this is the fact that we have access to comprehensive resources, leading technology, and innovative tools. For more information about Atlanta Financial, please visit http://www.AtlantaFinancial.com.
Atlanta Financial Associates' address is 5901-B Peachtree-Dunwoody Road, Suite 275, Atlanta, GA 30328. The phone for the branch is 770.261.5380. Securities offered through Commonwealth Financial Network, Member FINRA/SIPC, a Registered Investment Adviser. Fixed insurance products and services and advisory services offered by Atlanta Financial Associates, Inc. are separate and unrelated to Commonwealth.
(1) This recognition and the due-diligence process conducted are not indicative of the advisor's future performance. Your experience may vary. As your specific needs and circumstances may vary, you are encouraged to conduct your own due diligence.
(2) Portfolio performance is not a criterion due to varying client objectives and lack of audited data. SHOOK does not receive a fee in exchange for rankings.