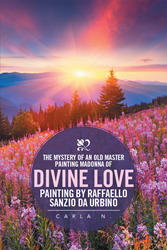 SAN FRANCISCO (PRWEB) April 17, 2017
Carla N. has been an art enthusiast for years, recognizing the priceless benefits of living a life surrounded by art. She details her experiences as an art collector and the difficulties of authenticating pieces of art that were once lost in "The Mystery of an Old Master Painting, Madonna of Divine Love Painting by Raffaello Sanzio da Urbino."
Carla includes her early years of being raised in Italy, her family history, and her journey to America.
"I wanted to tell a story to my grandchildren about how love is important," said Carla. "The book is also about my life story, interests, research, and the problem that still exists today when it comes to authenticating a work of art."
The story behind the "Madonna of Divine Love" painting includes the history of a duplicate and the disappearance of the original. Beyond art, the book also shows how history can be distorted due to misinformation.
"The Mystery of an Old Master Painting, Madonna of Divine Love
Painting by Raffaello Sanzio da Urbino"
By Carla N.
ISBN: 978-1-52450-474-8 (softcover); 978-1-52450-473-1 (hardcover);
978-1-52450-476-2 (eBook)
Available on Amazon, Barnes & Noble, and Xlibris
About the author
Carla N. was born in Italy and settled in California. Her interests include art, history, and travel. She is a collector of fine art, a researcher, and a businesswoman. Carla shares her personal story that is intended to bring light to her search for the essence of human nature.
###
Review Copies & Interview Requests:
LAVIDGE – Phoenix
Bryan Beach
480-998-2600 x 510
bbeach(at)lavidge(dot)com
General Inquiries:
LAVIDGE – Phoenix
Kalin Batts
480-998-2600 x 524
kbatts(at)lavidge(dot)com