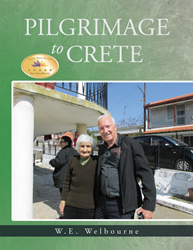 Mount Martha, Australia (PRWEB) March 13, 2017
Following in the footsteps of his uncle who served during World War II, author W.E. Welbourne shares the historical travelogue and human interest story "Pilgrimage to Crete."
The book provides a dissertation on the folly of war, as collected from eyewitness accounts and other historical examples. Areas of focus include Arthur Dawson's capture on Crete and his eventual escape, when he was subsequently sheltered by a Greek family.
"My uncle's wartime exploits are poignant moments to me and others who like a good human interest story," said Welbourne. "The world needs compassion, goodwill, and peacemakers, as exemplified by the Antoniadou Greek family, in overcoming greed and lust for power."
In "Pilgrimage to Crete," Welbourne travels to the historic battlefields and civilizations of the Eastern Mediterranean, the Middle East, and Central Europe to trace his uncle's journey as a solider in one of the most significant and destructive conflicts in world history.
"Pilgrimage to Crete"
By W.E. Welbourne
ISBN: 978-1-51449-604-6 (softcover); 978-1-51449-606-0 (hardcover);
978-1-51449-605-3 (eBook)
Available on Amazon, Barnes & Noble, and Xlibris
About the author
W.E. Welbourne is the author of "Cruising the Latin Tapestry," a travelogue and adventure story of his travels around the continent of South America. Welbourne's latest book, "Pilgrimage to Crete," traces the footsteps of his uncle who was captured by the Germans in the Battle of Crete during World War II. For more information, please visit http://www.pilgrimagetocrete.com.
###
Review Copies & Interview Requests:
LAVIDGE – Phoenix
Bryan Beach
480-998-2600 x 510
bbeach(at)lavidge(dot)com
General Inquiries:
LAVIDGE – Phoenix
Chris Pena
480-998-2600 x 519
cpena(at)lavidge(dot)com