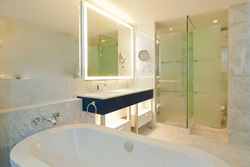 Installing 1,800 bathrooms in one project site is our biggest job to date
Orlando, Fla. (PRWEB) March 09, 2017
When guests begin staying at the Baha Mar and Grand Hyatt luxury hotels in Nassau, Bahamas, in April, they might not realize there is a secret behind the beautiful, high-quality bathrooms in the properties' guestrooms. Unlike traditional construction, the 1,800 Oldcastle SurePods™ bathrooms were prefabricated in Florida and transported to the island nation in shipping containers.
The project team, led by China Construction America, Inc., chose the bathroom pods to eliminate thousands of man hours from the project site, while ensuring 5-star bathroom quality.
Oldcastle SurePods consolidate more than 10 trades – including electrical, plumbing and finishing work – into one prefabricated product. The prefabricated bathrooms are easy to lift, place and install, which helps save project developers time and money.
"In addition to the speed, simplicity, superior quality and safety benefits of modular bathrooms, two things stand out with this project," said Bill Seery, Director of Business Development for Oldcastle SurePods. "Installing 1,800 bathrooms in one project site is our biggest job to date. Second, was our ability to ship to an island that faces skilled construction labor shortages."
About Oldcastle SurePods
Oldcastle SurePods is the leading provider of prefabricated bathrooms in North America. Using Building Information Modeling (BIM) and lean manufacturing technology, Oldcastle SurePods works with customers from design to installation to produce custom, ready-to-install bathroom pods for hotels and multi-unit residential projects. Replacing on-site bathroom construction, bathroom pods accelerate the construction timeline, improve overall quality and eliminate the punch list for the bathroom, the most problem-ridden part of a construction project. Oldcastle SurePods is part of Oldcastle, one of the largest manufacturers of building products in North America. http://www.oldcastlesurepods.com