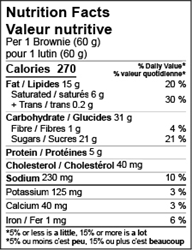 This release (of Genesis R&D Food Labeling Software) includes all of Health Canada's changes, both in layout and DV requirements.
Salem, OR (PRWEB) March 09, 2017
ESHA Research, the leading provider of nutrition analysis and government-compliant food labeling solutions, today announced a significant update for the Genesis R&D Food Formulation & Labeling Software. Genesis R&D version 11.3 has been updated with new Nutrition Facts table formats that align with Health Canada's new nutrition facts label regulations.
"Our primary goal at ESHA is to remove complexity and provide compliance, making your work easier," said Craig Bennett, CEO of ESHA, "We are continually monitoring labeling regulations and adjusting our software accordingly. This update reflects our commitment to our international users, while still simplifying the compliance process for everyone."
Changes to Canada's Nutrition Facts table include requiring a percent Daily Value (%DV) for sugars, an updated list of core (required) nutrients, a new footnote, grouping of sugar-based ingredients, minimum type sizes, bolding of Calories, and more. These and other modifications have been incorporated into the software and ESHA nutrition database.
"This release includes all of Health Canada's changes, both in layout and DV requirements," said Josh Luth, Software Development Manager at ESHA. "Both the new and pre-existing labels will be available in the program for a period of five years."
Manufacturers have a five-year compliance period, which started Dec. 14, 2016, and during that time both pre-existing and new Nutrition Facts tables will be seen on grocery store shelves.
Anyone with questions about the new regulations is invited to download ESHA's new eBook: Canada's New Food Labelling Regulations or attend our upcoming webinar, Examining Canada's New Nutrition Facts Table's and Nutrient Definitions, on March 28, 2017.
About ESHA Research
ESHA Research, founded in 1981, offers a variety of nutritional-analysis and label-development solutions to ensure regulatory compliance. Our software programs and databases have been used all over the world, by food manufacturers, educational facilities, restaurants, healthcare facilities, and other industry institutions for nutrient analysis, labeling, product development, and more. In addition, ESHA Research offers software and regulatory compliance consulting and label-generation services.