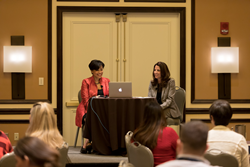 Dynamic women leaders are essential for organizations that want to thrive in today's increasingly diverse and competitive business environment.
Delray Beach, FL (PRWEB) March 13, 2017
Brandon Hall Group has announced the launch of an exclusive new event, A Way Forward: Women In Leadership Summit, to be held June 15 -16, 2017, at the Delray Beach Marriott in Delray Beach, FL.
Brandon Hall Group's research validated the need for targeted development opportunities for women to improve capabilities, communication, understanding and sensitivity between genders and cultures. To grow and achieve their potential – both personally and professionally -- women need support for addressing the unique internal and external obstacles they face.
The WIL Summit is designed to diagnose the current state of women in leadership at the attendees' organizations, be an open forum to share leading practices for driving greater opportunities for women leaders, and create a higher-impact future state for women leaders.
The WIL Summit is designed for women in leadership roles -- including mid-level to senior managers, directors, VPs, and C-level -- in corporations, non-profits, and government agencies. The WIL Summit is also a great opportunity for men who lead diverse teams and seek greater understanding of how to better recruit, engage, develop, and retain talented women.
 
"Dynamic women leaders are essential for organizations that want to thrive in today's increasingly diverse and competitive business environment," said Rachel Cooke, Chief Operating Officer at Brandon Hall Group and the event's producer. "There are many more talented women leaders than are represented in corporations, government agencies and non-profits. Brandon Hall Group is launching this event to create additional developmental opportunities, and a new community to help support women leaders as they continue their career journeys."
The summit opens Thursday, June 16, with Leading with Authenticity, led by Jenny Dearborn, Chief Learning Officer and Senior Vice President at SAP, and Cooke.
Dearborn is a recognized thought leader in human capital management and general business, and is a regular contributor to Forbes, The Wall Street Journal, The Huffington Post and Fast Company, among others. She has been named as one of the 50 Most Powerful Women in Technology by the National Diversity Council, and she was the recipient of the Silicon Valley Women of Influence Award for 2014 and the Silicon Valley Tribute to Women in Industry Award for 2013. She is the executive producer of the Game Changers: Women in Business series on the Voice of America Radio Network.
Other topics that will be explored during the 2-day event include:

Personal brand
Leadership techniques to handle tough conversations about equal compensation and promotions
Multi-cultural differences
Social biases
Micro-behaviors, and more.
Presenters include:

Bonnie St. John, F500 Business Consultant at Blue Circle Leadership
Kate Day, VP of Global Workforce Enablement, Global Technology and Operations at MetLife
Sheila Gatlin, Executive Director at Ernst & Young
Sarah Vita, Head of Sales Support at AXA
Amy Dreher, VP of Learning and Development at CoreNet Global
Rachael Bourque, Director of Corporate Employability at Pearson North America.
More sessions and presenters are being added as the program develops. For a complete view of the agenda and to stay on top of updates, please visit our website at http://www.brandonhall.com/WIL. You can also download a brochure here: http://go.brandonhall.com/wil-summit-2017.
All of this takes place at the beachside Delray Beach Marriott in South Florida. Attendees get special rates on hotel guest rooms, including free in-room Wi-Fi. Brandon Hall Group members get special summit registration pricing. Sign up to receive exclusive discounts and announcements by contacting us at WIL(at)brandonhall(dot)com
About Brandon Hall Group: 
With more than 10,000 clients globally and more than 20 years of delivering world-class research and advisory services, Brandon Hall Group is the most well-known and established research organization in human capital management. We are focused on developing research that drives performance in emerging and large organizations, and we provide strategic insights for executives and practitioners responsible for growth and business results.
At the core of our offerings is a Membership Program that combines research, benchmarking and unlimited access to data and analysts. The Membership Program offers insights and best practices to enable executives and practitioners to make the right decisions about people, processes, and systems, coalesced with consulting services that put the research into action in a way that is practical and efficient.
For more information about the research and consulting, please contact CEO Mike Cooke: (561) 865-5017 or mike.cooke(at)brandonhall(dot)com.