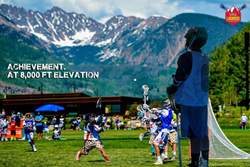 Vail, CO (PRWEB) March 21, 2017
This June, the Vail Lacrosse Tournament will transform Colorado's Vail Valley into one of the biggest competition destinations in the US for boys and girls youth Lacrosse. Over 100 teams from across the country, ranging from 4th grade through high school, will come together for this family-friendly, three day event, amounting to roughly 2,000 players and 3,000 families and spectators.
At 8,000 ft, the Vail Lacrosse Tournament stakes its claim as the highest elevation lacrosse event of its kind. Breathtaking views, endless outdoor possibilities, exquisite local cuisine, and charming mountain town culture make the Vail Valley one of the top family friendly summer travel destinations.
Not just a spectators sport, Lacrosse is noted as one of the fastest growing sports in youth and high school divisions by the The National Federation of State High School Associations' participation report, with over 3 million players estimated to be participating in organized teams. With over 25 countries embracing the sport, it's only foreseeable that the game will continue to grow in the US -- with the Vail Valley leading the way for youth and high school divisions nationally. Families and fans of Lacrosse travel to the area with the opportunity to stay and enjoy everything the Rocky Mountains have to offer.
Just as lacrosse was picking up name recognition and national momentum as a popular youth sport, the Vail Lacrosse Tournament began building its own clout when it launched in 1995. Now in its 23rd consecutive year, players from across the country look forward to reconnecting with old friends and rivals at the tournament in Vail.
The annual summer lacrosse tournament will return for 2017 on June 19-21 with games scheduled in Vail, Eagle-Vail, Avon, and Edwards. For travel details including hotel packages and area activities during the event, check out the event travel deals located here. Teams interested in participating are encouraged to register for the event on the official website at http://www.coloradolacrosse.com/. Stay connected with the Vail Lacrosse Tournament in the coming weeks as we begin showcasing teams doing great work on and off the field.