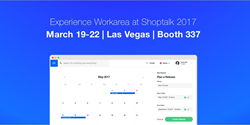 After seeing the strong speakers and useful sessions at the first Shoptalk, we had to return
Philadelphia, PA (PRWEB) March 20, 2017
Shoptalk 2017 -- WebLinc, the modern provider of commerce and operations management systems, is pleased to announce it will give live demos of the recently unveiled Workarea platform during Shoptalk 2017 in Las Vegas at booth #337.
"After seeing the strong speakers and useful sessions at the first Shoptalk, we had to return," said Darren C. Hill, CEO and co-founder of WebLinc. "We're looking forward to talking with online merchants who are in town to hear from and network with some of the top industry minds."
In between sessions from March 19-22, Workarea will make its public debut. If you're a brand or retailer who isn't registered for the Tech Tours we're participating in, come say hello at booth #337. The Workarea team will be building its booth (visit and you'll understand) and sharing digital commerce tips, tricks and best practices.
Founded by the creators of Money20/20, Shoptalk attracted more than 3,100 attendees in 2016 including over 395 CEOs, and is growing to 5,300+ attendees this year. Shoptalk's agenda explores a broad spectrum of innovative topics, trends and technologies.
To schedule a one-on-one meeting to get your eyes on Workarea at Shoptalk, visit https://www.workarea.com/pages/shoptalk2017.