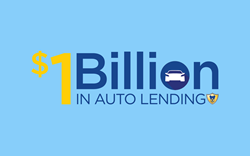 This production represents true value for our member-owners.
Melbourne, FL (PRWEB) March 09, 2017
Space Coast Credit Union, Florida's third-largest credit union, recently announced record-breaking production figures for 2016, delivering over $1 billion in auto lending for the first time in its 65-year history.
The credit union projects these lending totals equate to approximately $25 million saved for its members.
"This production represents true value for our member-owners," President and CEO Doug Samuels said. "A billion dollars in auto lending was not a goal that we set out to achieve in 2016. However, we continued to experience demand for vehicle loans, and our employees stepped up and met the needs of our members, while also ensuring the memberships' interests were protected."
Offering competitive auto loan rates as low as 1.89% APR* and financing thousands of vehicles each month, consumers trust SCCU as lending experts who also watch out for them in all aspects of their financial lives. This, coupled with the ease and convenience of applying and getting pre-approved for an auto loan in minutes online, over the phone or at the dealership, has led the credit union to becoming the top auto lender in Brevard County while continually increasing its market share in the 13 other counties it serves.
In addition to helping members purchase new vehicles in 2016, SCCU also refinanced over $177 million in auto loans, in many cases lowering members' interest rates by significant amounts. Similar to the credit union's pre-approval process, SCCU makes it easy and convenient to refinance an auto loan from other lenders, making it possible to pay less per month while keeping the same vehicle.
SCCU collects and publishes uncensored reviews for all of its products on SCCU.com, including Pre-Approved Auto Loans (currently 4.73 stars out of 5) and Auto Loan Refinancing (4.83 stars out of 5). Only members who have used a product or service are surveyed for their feedback, ensuring those who visit the website receive authentic information to help make the most informed buying decisions available.
About SCCU
Space Coast Credit Union was chartered in 1951 and is headquartered in Melbourne, Florida. The credit union serves more than 365,000 members with assets of over $3.9 billion through a network of 58 branches and over 100 ATMs located throughout Florida and through its website SCCU.com. Space Coast Credit Union is open for membership to anyone who lives or works in the fourteen Florida counties it serves.
*RATE/TERM: APR is Annual Percentage Rate. Rate current at time of printing and subject to change. Rate is affected by your credit quality, model year, term selected, loan amount, loan to value (LTV), and payment method. Yours may be different. Qualified borrowers only. Our usual credit criteria apply. You may be asked to furnish a down payment.