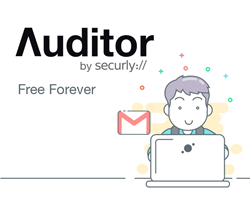 "The ability to detect bullying, self harm, or other potential destructive behavior is something we've never had before...Auditor was able to detect it gives us another tool to have in the struggle against bullying and self harm."
San Jose, California (PRWEB) March 08, 2017
Auditor - a zero-cost solution for K-12 to detect self-harm and bullying in GMail emerges from Beta.
Testing period included scanning 70,000 student emails for indications of grief and self-harm.
Securly, the leading provider of cloud-based web filtering, today announced they have emerged from closed Beta for "Auditor by Securly" – a free tool that helps schools ensure the safety of their students by monitoring GMail for messages that are indicative of bullying or self-harm. In their extended Beta phase with 20 customers, Securly scanned 70,000 emails per day for indicators of cyberbullying and self-harm.
Already, Principals and IT Admins are finding Auditor to be a powerful asset to student safety. Tom Walker, Massac Unit School District #1, remarked, "The ability to detect bullying, self harm, or other potential destructive behavior is something we've never had before. One Saturday evening, I received an email from the Auditor Safety Bot. The email contained wording about a video being uploaded to YouTube with a suicidal line. Upon further inspection, the video was not uploaded by one of our students, but was from a popular YouTube channel that the student had subscribed to. However, the fact that the Auditor was able to detect it gives us another tool to have in the struggle against bullying and self harm. From a legal perspective, it makes perfect sense that a school district would want the Auditor on their side."
From conversations with their customers, Securly learned that Gmail has opened up new avenues for students to vent negative emotions such as bullying and self-harm. However, as Google Mail became the chosen tool in thousands of schools across the world, Securly realized blocking Gmail was no longer a productive solution.
In general, many schools do not have good solutions in place that address this issue due to the following:
"web-filtering" does not apply to emails. Many schools use Google's default compliance options to flag emails that contain a predefined set of keywords. This can be prone to lots of False Positives (False Alarms) and False Negatives (Missed Alerts) and does not scale well in a large District where IT becomes the bottleneck in sorting through these flagged messages.
Traditional school approaches to monitoring these channels involving human auditors are costly.
The CIPA law is vague about the need to cover this vector – "The policy proposed must address.. security and safety of minors using chat rooms, email, instant messaging, or any other types of online communications." However, the meaning of "safety" is left too vague.
To rectify the above, Securly created Auditor. Given the lack of any compliance requirement, and cash-strapped schools already reluctant to spend on paid solutions, Securly felt it necessary to introduce a free tool to address this serious issue. Securly's decision to provide Auditor for free stems from their commitment to the pursuit of ubiquitous child safety – both at school and at home.
The Future for Auditor
Automated sentiment inference approach:
While existing tools rely heavily on keyword matching to detect inappropriate behavior (e.g. by looking for words like "suicide" or "ugly"), Auditor will use Securly's tried and tested machine learning techniques. For example, consider the following post that was flagged by our algorithm – "slowly im realizing i don't really have a purpose here say good-bye cause Fryday it's all over <3" It should be clear to the reader that a keyword based approach would not have worked in detecting this.
911 Emergency Response Notifications to Parents and Guidance Counselors:
Securly is extending the existing Delegated Administration and Parent Reports functionality from their flagship web-filtering product to Auditor. In the context of Auditor, these services will become 911 Emergency Response notifications to both guidance counselors and parents. Parents, principals and guidance counselors will receive an alert whenever Auditor detects disturbing emails sent or received – or even inside email drafts composed but not sent yet.
Securly
Securly is a venture-backed, fast-growth Silicon Valley startup. We are the leading provider of cloud-based web filters for schools with a presence in thousands of schools across the US, Europe, and Asia Pacific region.
Beyond school web-filtering, Securly also enables parents to engage in the online safety of their kids by providing the parents - for free - parental controls on school-issued devices, emergency notifications on flagged disturbing activities, and weekly activity reports. Parents can also customize policies to reflect their parenting styles, such as setting time limits on Chromebooks and iPads.