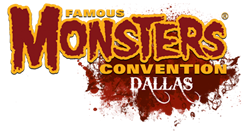 "The original magazine was one of the only things kids had at the time to encourage their love for monsters, aliens, and makeup. The Famous Monsters Convention aims to do the same thing."
Dallas, TX (PRWEB) March 14, 2017
Looks like Godzilla's new stomping ground is in Texas.
For three days in May, the director and special effects cinematographer of the award-winning SHIN GODZILLA are coming to Dallas as part of the official Famous Monsters Convention.
Cosmic-Con, the events division of Famous Monsters, is pulling together a unique experience forged from the science fiction enthusiasm for conventions and the creative passion of horror fanatics. Running at the Sheraton Dallas Hotel May 26-28, 2017, the convention will feature genre film and television stars, vendors, artists, and a full-blown independent film festival, the 2017 Silver Scream Film and Comic Fest.
One of the packages offered gives fans a chance to view a screening of SHIN GODZILLA sponsored by FUNimation, followed by a discussion with director Shinji Higuchi and cinematographer Keiichi Sakurai and admission to an exclusive after-party. The film recently cleaned house at the Japan Academy Prize Awards, winning Best Picture, Best Director (Higuchi and Hideaki Anno), and Best Editing, among others. Famous Monsters Convention Dallas is Higuchi and Sakurai's first US appearance since the Awards.
Anniversaries also abound this year in the world of genre film, and Famous Monsters Convention Dallas will be celebrating several of them: 35 years of BLADE RUNNER with star Sean Young, 30 years of STAR TREK: THE NEXT GENERATION with cast members Michael Dorn, Gates McFadden, and Marina Sirtis; and 85 years of Universal's THE MUMMY with Sara Karloff — daughter of the mummy himself, Boris Karloff.
"Famous Monsters' legacy is rooted in fostering fan gatherings and creativity," says Philip Kim, Publisher of Famous Monsters and Producer of the Convention. "The original magazine was one of the only things kids had at the time to encourage their love for monsters, aliens, and makeup. The Famous Monsters Convention aims to do the same thing."
Other announced guests include X-FILES Lone Gunmen Dean Haglund, Tom Braidwood, and Bruce Harwood; and original underwater Creature Ricou Browning of CREATURE FROM THE BLACK LAGOON.
To purchase tickets and learn more about the convention, visit https://www.famousmonstersconvention.com.
ABOUT FAMOUS MONSTERS®
Famous Monsters of Filmland (est. 1958) is the world's longest running entertainment fan magazine. Credited as the original authority in what we know as geek/nerd culture today, Famous Monsters influenced an entire generation of monster fans who grew up to become some of Hollywood's most recognized names: Steven Spielberg, Guillermo del Toro, Peter Jackson, Rick Baker, and so many more. Today, the magazine enjoys worldwide distribution, and has expanded beyond the pages to include licensed products, comic books, designer apparel, an e-commerce division, and a special events and conventions arm.
ABOUT SILVER SCREAM FILM AND COMIC FESTIVAL™
Designed to honor legendary filmmakers, discover new talent, unite the entertainment community, and encourage genre conversation, the annual Silver Scream Film and Comic Festival™ is a three-day event comprised of film screenings, award ceremonies, social gatherings, and celebratory parties. Silver Scream Fest, produced by Famous Monsters and Santa Rosa Entertainment Group, accepts feature and short length films, animations, screenplays, and comic book or graphic novel submissions.
ABOUT COSMIC-CON®
Cosmic-Con® is the event division of Famous Monsters of Filmland®, the world's longest running entertainment fan magazine (est. 1958). For years, Famous Monsters has brought fans of sci-fi, horror, fantasy, and pop culture together at events across the United States. Cosmic-Con, officially established in 2012, developed as a natural progression of Famous Monsters as a means to champion, promote, and foster fan gatherings, including the world-renowned San Diego Comic-Con International. The mission of Cosmic-Con is to partner with the biggest names in the entertainment industry to bring audiences experiences that are truly out of this world.