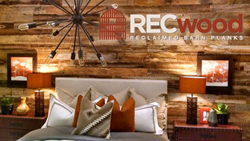 Choose our easy pre-mixed collections or make up your own.
Laguna Niguel, CA (PRWEB) March 09, 2017
RECwood Planks USA, a start-up division of reclaimed wood distributor True American Grain, is the newest reclaimed wood plank retailer to join the booming DIY craft movement. They're here to point out traps consumers can fall into if they don't know what to look for or what to ask when shopping for reclaimed wood or barn wood for their interior design projects. Just one uneducated decision could mean a big rip-off for substandard products.
Says Collin Gibellino, President of RECwood, "People have been brainwashed to use the terms 'rustic' and 'reclaimed' interchangeably. The reality is that the lumber industry's definition of 'rustic' is unstable, subpar quality wood. And we've seen shady retailers market and price it as reclaimed wood because consumers with an untrained eye can't tell the difference, or don't ask enough questions."
Conversely, RECwood Planks mills 100 percent, authentically aged reclaimed wood planks for the DIY and interior design markets. The planks are painstakingly collected from old barns across the great plains of America, precision-milled in their Southern California facility and assembled into easy-to-install DIY bundles, each containing 20 square feet of rare reclaimed wood planks.
RECwood Planks features the following uniquely beautiful collections:

California Coastal – a beachy blend of brown, gray and blonde tones. $239.95/box
Big Sky Gray – contemporary and modern gray wood with brown reveals. $259.95/box
Kentucky Bourbon – smooth as its namesake, and straight from Kentucky. $259.95/box
Cheyenne Creek – a pre-blended mix of wire-brushed gray and caramel planks. $259.95/box
Dodge City – a natural, versatile mix of old corral and snow fencing. $219.95/box
Possible design applications include: bar areas, accent walls, sliding barn doors, kitchens, bathrooms, ceilings and more. Another application that is growing in popularity is barn wedding decor. RECwood planks are easy to install with basic handyman tools – no expensive contractor is necessary. In addition, RECwood planks are permanent and, unlike 'rustic' peel-and-stick panels, you can hang pictures on RECwood reclaimed planks due to the strength of antique barn wood.
Visit us on Facebook at https://www.facebook.com/OriginalDIYPanels/ or shop us online at https://www.recwoodplanks.com. , where first time buyers will enjoy a 15% discount. Or visit https://www.trueamericangrain.com for custom applications, beams, mantles, flooring and other unique interior designs.