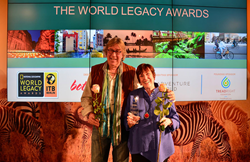 working closely with communities, especially in a developing nation like Belize, is intrinsically and morally right, and provides tangible benefits for everyone involved
San Ignacio, Belize (PRWEB) March 14, 2017
The Lodge at Chaa Creek taking first place honours at National Geographic's World Legacy Awards highlights how working with local communities results in mutually beneficial, truly sustainable tourism, the popular Belizean eco-resort's owners said.
Mick and Lucy Fleming were speaking at the 2017 World Legacy Awards (WLA) ceremony held 8 March at the ITB convention in Berlin where they accepted the top award in the "Engaging Communities" category.
"All of us at Chaa Creek are particularly honoured to receive an award that celebrates the bond we have with our local Belizean communities, and Mick and I are gratefully accepting it on behalf of our 160 staff members and the many Belizeans who, through hard work and a dedication to providing exceptional service, have taken Belize from a relatively unknown little former colony to the world class destination it is today," Ms Fleming said.
The Flemings turned their family farm on the banks of the Macal River into one of Belize's first eco-resorts just as the little Central American country gained independence from Great Britain in 1981. Since then, The Lodge at Chaa Creek has grown to become one of the county's most highly awarded tourism destinations and a model for sustainable, responsible travel.
The World Legacy Awards are an initiative of National Geographic and ITB Berlin to honour companies, organisations and travel destinations for "environmentally friendly operations, protection of natural and cultural heritage, and support for the wellbeing of local communities," according to the organisation's website.
Costas Christ, a National Geographic Traveller editor and the awards' chairman, said this year's WLAs are particularly relevant, as the United Nations declared 2017 to be "The International Year of Sustainable Tourism Development".
"There is growing excitement about the transformation of the global travel and tourism industry in positive ways for people and the planet," he said, and congratulated the 2017 WLA finalists for being "part of this innovative travel transformation."
An international panel of judges selected three finalists for each of five categories: "Earth Changers", "Sense of Place", "Conserving the Natural World", "Engaging Communities" and "Destination Leadership."
Chaa Creek took first place in the "Engaging Communities" category that recognises "direct and tangible economic and social benefits that improve local livelihoods, including training and capacity.
In acknowledging Chaa Creek, National Geographic stated that, "Belize's pioneer eco-resort demonstrates that putting local people first benefits employees, villages, and its own bottom line. The Lodge provides economic benefits to community projects across the nation, directing 10 percent of all room revenue to support social and environmental programs."
Chaa Creek's close, mutually beneficial relationship with local communities grew naturally over the last 35 years, the Flemings explained.
"Belize is blessed with some of the most stunning natural beauty in the world, but at the end of the day it's the people who make living in and visiting Belize such a wonderful experience. Mick and I always recognised that, and we always felt it was important to contribute and give something back to the communities we've had such a close bond with and have given us so much over the years," Ms Fleming said.
"We also like to show that working closely with and supporting local communities, especially in a developing nation like Belize, is not only intrinsically and morally right, but provides tangible benefits for everyone involved.
"For us, that's a very clear example of the value of sustainable tourism and responsible travel, and why we're so deeply honoured to receive this award," Ms Fleming said.
The Lodge at Chaa Creek is a multi award winning eco resort set within a 400-acre private nature reserve along the banks of the Macal River in Belize.
ENDS