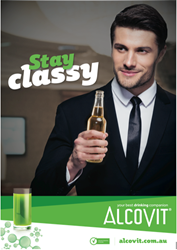 Boca Raton, FL (PRWEB) March 09, 2017
Alcovit, a lime-flavored effervescent detox beverage will soon be available for purchase from a variety of sources in the American market.
The formula for Alcovit is the result of 25 years of development and ensuing perfection. Using a natural mineral silicate ingredient (a unique form of Zeolite) the product is able to support the body's ability to eliminate toxins quickly, as well as providing a selection of vitamins, minerals and antioxidants.
Alcovit was designed to be taken either before, during or after the consumption of alcohol to help minimize the symptoms associated with hangovers with a focus on efficiently detoxifying the body. The product will soon be more widely available across the American market than ever before.
"There is no other product in the world like Alcovit for the prevention hangovers," said Brett Mainon, holder of the exclusive rights of Alcovit for the United States of America. "There are so many people who socialize with alcohol, but are leery about the health effects. Alcovit has science and innovation at its core to effectively curb those unwanted feelings the next day. We believe people all over America will be very appreciative of how well they feel."
The combination of ingredients, are used to support the body in times of stress and replenish those vitamins lost due to drinking alcohol. Alcohol intake can lead to the depletion of vitamins like B vitamins, which helps the body operate efficiently. The formula also supports the immune, cardiovascular and nervous systems, containing amongst other things Pantothenic acid, which is helpful in times of distress.
People who take Alcovit are looking for a product that helps prevent some of the harmful toxins that the body produces to remove the alcohol naturally. Toxins like acetaldehyde are the main cause of hangovers symptoms. The Zeolite in Alcovit has a binding effect that works to reduce the amount of alcohol that needs to be metabolized from ethanol into water by the liver.
Alcovit is extremely easy to mix (just add to a large glass of water), and it features a delicious lime flavor that is refreshing no matter when you drink it.
"This is an exciting step forward for our company as we work to expand awareness of our brand," said Mr. Mainon. "We look forward to reaching out to more people than ever before."
For more information about Alcovit, visit http://www.alcovit.com.au.