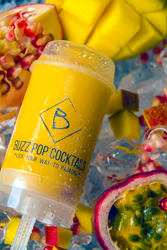 "We're excited that several of the top Las Vegas Day Pool Clubs are our launch partners as we debut Buzz Pops.
Las vegas, Nevada (PRWEB) March 13, 2017
Buzz Pop Cocktails, the latest in premium frozen specialty cocktails, is pleased to announce its VIP launch just in time for the perfect storm that is brewing in Las Vegas this month. With Spring Break, St. Patrick's Day, NCAA's March Madness and the opening of over 26 hotel Day Pool Clubs that are sure to draw hundreds of thousands of party-goers, Buzz Pop Cocktails are meeting the millennial market with a VIP party and tasting of the chef-inspired gastro- innovation that offers seasonal fruit whipped in an Italian-style sorbet infused with top shelf liquor. Exclusive flavors were created just for Rehab that are being debuted on March 17th which include the Lucky Clover Grasshopper and a Jameson Mule Buzz Pop.
"We're excited that several of the top Las Vegas Day Pool Clubs are our launch partners as we debut Buzz Pops. We are even more excited to be in collaboration with branding giant Red Bull for the creation of unique and delicious Rebel Tangerine and Tropical flavored Red Bull Buzz Pops to be available this summer," said Joseph Isaacs, CEO of Buzz Pop Cocktails.
Buzz Pop Cocktails will be hosting their long awaited VIP launch event, including tastings of their seasonal spring flavors, exclusively at the Hard Rock Hotel's famous Rehab Beach Club for St. Patrick's Day Party on March 17th. Follow us on Facebook for the additional launch dates and the latest news. Las Vegas party goers now have an alternative to watered down, high sugar, grain alcohol and poor tasting concoctions served out of a slushy machine.
About Buzz Pop Cocktails:
Launching in Las Vegas in March, 2017, Buzz Pop Cocktails is the only ready-to-serve, all natural 100% fruit, gourmet Italian-style sorbet with the patented process for freezing the finest top shelf liquor brands to uniquely serve their customers a high-quality, frozen specialty cocktail. It's an "Indulgent premium cocktail with a healthy twist" delivered in an old-fashioned, see through push pop. Buzz Pops just completed the construction of its distribution center just south of the famous Las Vegas strip to simplify coordinated distribution to hotels. Distribution plans include major music festivals, cruise lines as well as global licensing agreements that have been secured for expansion in 2017 into the Pacific Rim, Australia, China, Europe and Mexico markets. Think major music festivals like EDC, Coachella, Ultra and SxSW.
About Rehab Pool Club at the Hard Rock Hotel:
Rehab Beach Club is the infamous Las Vegas pool party, set in a tropical oasis at Hard Rock Hotel & Casino.
About Red Bull:
Red Bull is the leading global energy drink available in more than 169 countries which gives wings to people and their ideas. Since its foundation and the creation of an entire new category in the mid 80's, storytelling is a part of Red Bull's DNA.