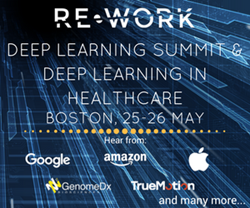 "There is a huge potential for medical applications of deep learning to help lots of people" -Yoshua Bengio, Université de Montréal.
Boston, MA (PRWEB) March 13, 2017
The RE•WORK Deep Learning Summit is returning to Boston on 25-26 May. The two day event will showcase advancements in Deep Learning and explore how the latest methods and tools are being applied to solve problems in business and society. One industry ripe for disruption is the healthcare sector, thus this year, there will be an additional track focusing on Deep Learning applications within health and medicine.
Why Attend?
The events will bring together over 400 industry experts, startups and researchers, covering topics such as transfer learning, image recognition, neural networks and reinforcement learning and how they will impact business efficiency and solve challenges in the healthcare sector.
As the summits are co-located, attendees will be able to enjoy additional agenda sessions, workshops and networking opportunities, allowing them to further expand their knowledge and ensure their organisation is up-to-date with the latest trends, advancements and impactful applications in the field of artificial intelligence.
The events attract a global audience, with confirmed attendees including Amazon, Apple, Adobe, eBay, Disney Research, Google, Facebook, Thomson Reuters, MIT, UnitedHealth Group, Novartis, JetBrains, Audi, RBC, GSK, Roche and many more.
Notable Speakers

Charlie Tang, Research Scientist at Apple, will address concerns faced by supervised neural networks with proposed models which add domain-specific knowledge;
Andrew Tulloch will explain a few tools and tricks used for scaling both the training and deployment of some of the deep learning models at Facebook;
Dilip Krishnan, Research Scientist at Google, will be presenting 'New Approaches to Unsupervised Domain Adaptation' which help eliminate costs of applying machine learning algorithms;
Principal Scientist at Amazon, Spyros Matsoukas will explain the deep learning techniques addressing challenges faced to improve Alexa's spoken language understanding capabilities;
David Plans, CEO of BioBeats, will be discussing how using deep learning approaches will help people be well, fight stress, and be more productive.
Do you have an interesting topic for discussion, or know of someone who does? Let us know by suggesting a speaker here.
On-Demand Content
Can't attend the live events? We have a new and improved Video Hub platform where you can access the event content on-demand; including the presentations, slides, panel discussions and expert interviews. Email Chloe at cpang(at)re-work.co if you'd like information on introductory membership pricing.
Tickets & Registration
Discounted Early Bird tickets are available until 31 March 2017. For further information and to register at a discounted rate, visit: https://www.re-work.co/events/deep-learning-summit-boston-2017
###
About RE•WORK
RE•WORK is an events organising company that brings together breakthrough technology, cutting-edge science and entrepreneurship shaping the future of business and society. At each event, we showcase the opportunities of exponentially accelerating technology to positively disrupt industry and society. For more information, view the full line-up of events here: http://www.re-work.co/events
For media and press enquiries, interviews and images, please email hello(at)re-work.co