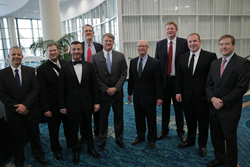 These [awards] are truly a testament to the hard work of our people, their dedication to safety and their commitment to customer satisfaction.
BIRMINGHAM, Ala. (PRWEB) March 09, 2017
Associated Builders and Contractors (ABC) announced Robins & Morton as the 2016 National Excellence in Construction Eagle Award winner for three projects at the 27th Annual Excellence in Construction Gala on March 1 in Fort Lauderdale, Florida.
Robins & Morton's first place Eagle Award winners include:

Cherokee Indian Hospital in Cherokee, North Carolina: Healthcare, $25 million to $100 million category. The replacement hospital featured a complex design, paying homage to rich culture and heritage of the Eastern Band of Cherokee Indians. The project was also located in a mountainous area and required extensive planning to combat the site preparation challenges.
HealthSouth Rehabilitation Hospital of Cincinnati at Norwood in Norwood, Ohio: Healthcare $10 million to $25 million category. At the start of the project, Robins & Morton removed extensive amounts of contaminated soil, requiring close coordination with the EPA. Additional challenges included an expedited schedule and frozen ground due to below-freezing temperatures, which ultimately lead to modifications in foundation design.
Duke University Medical Center Surgical Unit Renovation in Durham, North Carolina: Healthcare less than $10 million category. This project earned special recognition for the construction of nine new operating rooms (ORs) in the middle of 60 active ORs, while maintaining full hospital operations.
Robins & Morton also received a National Safety Excellence Award at the gala. This award is measured by both safety performance and the structure of a company's safety program to achieve results.
The Excellence in Construction awards program is the industry's leading competition, developed to honor innovative and high-quality merit shop construction projects, with an Eagle Award presented to the top project in each category. The award honors all construction team members, including the contractor, owner, architect and engineer. The winning projects, selected from entries submitted from across the nation, were judged on complexity, attractiveness, unique challenges overcome, completion time, workmanship, innovation, safety and cost.
A panel of industry experts served as the competition's judges. This year's panel included representatives from the Design-Build Institute of America, Engineering News-Record, the Construction Users Roundtable, and the National Association of Women in Construction, and representatives from higher education, among others.
"We are truly honored to receive three first place awards on a national level as well as a national Excellence in Safety Award," Robins & Morton Chairman and CEO, Bill Morton, said. "These are truly a testament to the hard work of our people, their dedication to safety and their commitment to customer satisfaction."
###
About ABC
Associated Builders and Contractors (ABC) is a national construction industry trade association representing nearly 21,000 chapter members. Founded on the merit shop philosophy, ABC and its 70 chapters help members develop people, win work and deliver that work safely, ethically, profitably and for the betterment of the communities in which ABC and its members work. Visit us at http://www.abc.org.
About Robins & Morton
Founded in 1946, Robins & Morton is a privately held engineering and construction firm that consistently ranks among the 100 largest U.S. contractors in Engineering News-Record Magazine. The company has also been named one of the best mid-sized companies to work for in America because of its worker-friendly and family-friendly practices. Robins & Morton is based in Birmingham, Alabama, with offices in Dallas, Texas; Huntsville, Alabama; Miami and Orlando, Florida; Nashville, Tennessee; Charlotte, North Carolina. For more information, visit http://www.robinsmorton.com