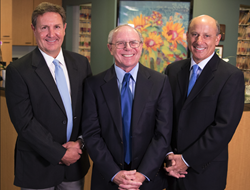 San Diego, CA (PRWEB) March 09, 2017
Patients in need of experienced orthodontic care and other cosmetic dental treatments can now receive Invisalign® in San Diego, CA, from Drs. Lawrence Addleson, R. Douglas Campbell or David Landau, with or without a referral. The Invisalign design provides discreet and convenient care to straighten crooked teeth and create a healthy, aesthetically appealing smile. Drs. Addleson, Campbell and Landau are respected cosmetic dentists, dedicated to crafting custom smiles by offering state-of-the-art treatments with the latest training and technology.
Crooked or crowded teeth can become difficult to clean, leading to improper oral hygiene habits and eventually gum disease. Associated with systemic effects such as heart disease, stroke and some cancers, precautions should be made to avoid gum, or periodontal, disease. Crooked teeth can also limit a person's ability to eat a varied and healthy diet. Beyond these detrimental effects, the power of a straight, healthy smile has been shown to improve a patient's self-esteem and increase their confidence.
As its name suggests, Invisalign is nearly invisible and is very effective at comfortably straightening teeth for both adults and teens. While traditional braces come with brackets and wires that can scratch the lips and cheeks, Invisalign has a smooth surface uniquely designed for each patient that minimizes treatment discomfort. Prior to designing a personalized treatment plan for each patient, Drs. Addleson, Campbell and Landau perform thorough examinations of the patient's mouth and determine their individual needs and goals. This pre-treatment process ensures a completely customized approach to cosmetic dentistry that produces a personalized outcome for each patient and the smile they desire.
Individuals with crooked teeth are encouraged to seek treatment from an experienced and highly-trained cosmetic dentist. Appointments for Invisalign in San Diego, CA, can be scheduled with Drs. Addleson, Campbell or Landau by calling Art of Dentistry at 619-291-4325.
About the Practice
Art of Dentistry is a cosmetic dental practice offering patients customized dental care in San Diego, CA. Applying a philosophy that considers the art, science and biology of a smile, Drs. Lawrence Addleson, R. Douglas Campbell and David Landau provide personalized care in a comfortable, family atmosphere. With combined experience of over 85 years, the Art of Dentistry team uses state-of-the-art technology and leading techniques to craft each healthy smile. To learn more about Drs. Addleson, Campbell and Landau or the services they offer, visit their website, http://www.sandiegoartofdentistry.com. To experience the Art of Dentistry difference, call 619-291-4325.