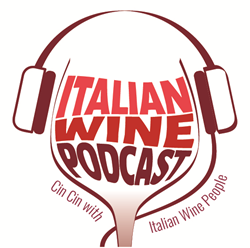 Italian wine culture is intrinsic to values such as friendship, family, and community
Verona, Italy (PRWEB) March 09, 2017
Italian Wine Podcast: Cin Cin with Italian Wine People, the podcasting project which showcases the unique Italian wine-making tradition in conversation with some of its key protagonists, was finally launched this week with the publication of the first of 13 series of interview carried out during OperaWine 2016. Wine writer Monty Waldin interviewed 13 Italian wine producers and chatted about fine wines, life on the vineyard, and more. These interviews are available to listen on Soundcloud https://soundcloud.com/italianwinepodcast, iTunes https://itunes.apple.com/it/podcast/italian-wine-podcast/id1211622570, and Facebook https://www.facebook.com/ItalianWinePodcast/.
In the interviews on Italian Wine Podcast, Monty Waldin unearths wine-making traditions, family and personal histories of renowned producers of Italian wine. The episodes take listeners on a journey across Italy and its finest wine traditions. Monty's guests discuss the art of wine-making between tradition and modernity, sustainability and landscape conservation. These 'Italian Wine People' offer curious anecdotes about their families, their favorite wines and recipes, and what wine making means for them.
The series opens with Elisabetta Gnudi Angelini, owner of the Altesino, Borgo Scopeto, Caparzo, and Doga della Clavole wineries. Elisabetta talks about her commitment to sustainability and energy-efficient production, and of her love for tortellini. All the interviewees share a great passion for the land and the art of wine making. They all emphasize the uniqueness of wine culture in Italy and how Italian wine culture is intrinsic to values such as friendship, family, and community. "In Italy, we do live wine… We are trying to export not only the bottle of wine but what goes around that bottle of wine, so sitting down before lunch, before dinner, popping up a bottle of wine and tasting it with friends, because a good part of Italian wine is that when you pop a bottle you are never alone," explains Francesco Zonin of the Zonin Family Winery. Emilia Nardi of the Tenute Silvio Nardi in Montalcino speaks of the rhythms of wine-making and the need for patience and respect in order to understand what nature offers. Giuseppe Tasca d'Almerita of the Tasca d'Almerita Winery in Sicily tells Monty about his love for Sicily, its "deep culture and deep roots," and his "mission" to make it a "fantastic place for visitors." Lamberto Frescobaldi of the Frescobaldi Wineries recalls with fondness his childhood memories growing up on the Nipozzano estate, his experience in America, and his recent wine-making project with prisoners of the Gorgona Penitentiary on the island of Gorgona off the coast of Tuscany.
"These brilliant interviews with prestigious Italian wine producers were recorded last year during OperaWine 2016 and we are now thrilled to launch them on Italian Wine Podcast. It has taken us almost a year to publish them, but good things, good stories, come to those who wait, as they say, so we do hope you will enjoy them even more and will stay tuned for more wine stories after OperaWine 2017!" explains Stevie Kim, Managing Director of Vinitaly International.
Other wine producers interviewed by Monty Waldin include: Francesco Marone Cinzano of Col d'Orcia in Montalcino; Federica Mascheroni Stanti from Castello di Volpaia in Chianti Classico; Chiara Lungarotti of the Giorgio Lungarotti Winery in Torgiano, Umbria; Maria Sabrina Tedeschi from the Valpolicella Wine Company; Giuseppe Mazzoccolin from the Felsina Berardenga Winery in Chianti Classico; Meri Tessari from the Suavia Winery in Soave; Virginie Saverys from the Avignonesi Winery in Montepulciano; Alessio Planeta of the Planeta Wineries in Sicily.
The Italian Wine Podcast host is Monty Waldin, the first wine writer to specialize in organic and biodynamic wines. Monty was filmed making biodynamic wine by the UK's Channel 4 for his TV series "Chateau Monty". In the podcasts, Monty's expert hosting creates a relaxed and intimate atmosphere that makes these interviews feel like amiable conversations between old friends. During Vinitaly 2017, Monty Waldin will record and host a second series of Italian Wine Podcast.
Tune in to Italian Wine Podcast on Soundcloud, iTunes, and Facebook to discover the unique Italian wine-making tradition from the voices of its protagonists.
About:
Veronafiere is the leading organizer of trade shows in Italy including Vinitaly (http://www.vinitaly.com), the largest wine and spirits fair in the world. During its 50th edition Vinitaly counted more than 4,100 exhibitors on a 100,000+ square meter area and 130,000 visitors from 140 different countries. The next edition of the fair will take place on 9 - 12 April 2017. The premier event to Vinitaly, OperaWine (http://www.operawine.it) "Finest Italian Wines: 100 Great Producers," will unite international wine professionals on April 8th in the heart of Verona, offering them the unique opportunity to discover and taste the wines of the 100 Best Italian Producers, as selected by Wine Spectator. Since 1998 Vinitaly International travels to several countries such as Russia, China, USA and Hong Kong thanks to its strategic arm abroad, Vinitaly International. In February 2014 Vinitaly International launched an educational project, the Vinitaly International Academy (VIA) with the aim of divulging and broadcasting the excellence and diversity of Italian wine around the globe. VIA this year launched the second edition of its Certification Course and today counts 55 Italian Wine Ambassadors and 6 Italian Wine Experts.