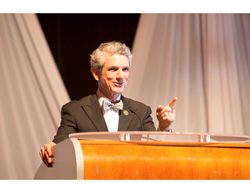 It's exciting to put our spotlight on Scott Rigell, poking some fun while we honor his long-standing advocacy for Horizons!
Virginia Beach, VA (PRWEB) March 14, 2017
Scott Rigell is one of the three responsible for bringing Horizons to Hampton Roads. On Saturday, April 29th in the spirit of good fun and fundraising, Horizons Hampton Roads will set Mr. Rigell's feet to the fire at the 12th Annual Roast & Toast Gala and Auction.
According to Dick Trowbridge, Executive Director of Horizons Hampton Roads, "Roast & Toast raises about 30% of our annual budget in just one night." He added, "It's exciting to put our spotlight on Scott Rigell, poking some fun while we honor his long-standing advocacy for Horizons!"
Horizons is a transformational, community-centered education program working to close the opportunity and achievement gaps for low-income children in Kindergarten through 12th grade. Horizons includes six weeks of academics, arts, sports and more each summer through partnerships with independent schools, colleges, and universities. Horizons students gain 8-12 weeks of reading and math skills each summer, learn to swim, and enjoy year-round support. 99% of Horizons high school students graduate and 91% go on to college.
Horizons Hampton Roads partners with the public school systems in Norfolk, Portsmouth, and Virginia Beach to select students for the summer program. This summer, over 400 students from about 60 public schools will be attending Horizons at Norfolk Collegiate School, Portsmouth Catholic Regional School and Virginia Beach's Chesapeake Bay Academy. These independent schools generously provide their facilities every summer to host Horizons and support our community.
To support Horizons Hampton Roads, join the fun at Horizons Hampton Roads 2017 Roast & Toast of Scott Rigell on April 29th at the Virginia Beach Convention Center. The event begins at 6pm. For tickets and more information, please visit https://horizonshamptonroads.ejoinme.org/roast2017 or call (757) 412-0249.
The website also offers sponsorship information as well as instructions for cash donations or inkind auction donations for the event. Current sponsors are TowneBank; Paul & Susan Hirschiel; Wall, Einhorn & Chernitzer; Danny & Jane Plante; Troutman Sanders; Goldkey PHR; ESG Companies; and McLeskey & Associates.
About Horizons National
Horizons National is a network of transformational, community-centered education programs that put children on a path to success in school and life. Horizons programs are closing gaps of opportunity and achievement for low-income children by providing a high-quality learning experience outside of the traditional school year. A child typically starts at Horizons the summer before entering Kindergarten and returns year after year through 12th grade. Students attend the six-week summer program on campuses of independent schools, colleges, or universities. Days at Horizons include academics with an emphasis on literacy, STEM, and art in small classes led by professional teachers. Swimming and other confidence-boosting activities break down barriers to success and expose children to new opportunities.