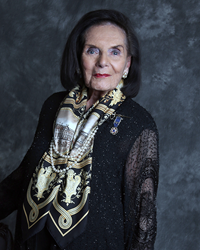 To Serve Is To Live
New York, NY (PRWEB) March 13, 2017
In recognition of her long and distinguished career, Frances Hesselbein, Presidential Medal of Freedom recipient, former CEO of the Girl Scouts of America, and currently President and CEO of the Frances Hesselbein Leadership Institute, will be honored with the 'This Woman Means Business!" Award at the 13th Annual M2W® - The Marketing to Women Conference. M2W® is an executive learning event that helps brand marketing execs learn how to build more business with women who account for $7 trillion annual spending in the US, and over $20 trillion globally. M2W® will be held May 2 & 3, 2017, New York.
"The award, annually presented during M2W®, is given to a woman who is a proven leader, an innovator and visionary…and has a track record of building successful enterprises while energizing and inspiring the people she touches in all she does, "according to Nan McCann, M2W® producer. "M2W®'s audience is comprised of powerful and influential marketing execs who control hundreds of millions of brand advertising and communications dollars. And Frances embodies the qualities I think they all hope for and value in corporate, non-profit and civic leaders. I'm sure her acceptance will be one of this year's highlights"
Hesselbein was nominated for the award by Jenny Darroch, Dean of the Drucker School of Management at Claremont Graduate University. Darroch said, "In 1998, Frances was awarded the Presidential Medal of Freedom, the nation's highest honor, as a pioneer for women, volunteerism, diversity and opportunity. Between 1976-1990, Frances served as the CEO of the Girl Scouts of America and is credited with leading a turnaround for the Girl Scouts. Twenty-six years after her "retirement" from the Girl Scouts, she still runs the Institute that bears her name, through which she continues to impact the practice of management around the world. Frances is a true inspiration to us all. Not only is she still active as a consultant and speaker but her wisdom, humor and integrity shine through in her commitment to lead with purpose, values and ethics."
"Frances is one of the most highly respected experts in the field of contemporary leadership development, "McCann added. "She is a national treasure. When Frances was awarded the Presidential Medal of Freedom for her leadership as CEO of Girl Scouts of the U.S.A. from 1976–1990, she was lauded by President Clinton as 'a pioneer for women, volunteerism, diversity and opportunity.' Her contributions were also recognized by the first President Bush, who appointed her to two Presidential Commissions on National and Community Service."
From 2009–2011, Frances served as the Class of 1951 Chair for the Study of Leadership at the United States Military Academy at West Point, in the Department of Behavioral Sciences and Leadership. She was the first woman, and the first non-graduate to serve in this chair. And she was named a Senior Leader at the Academy's 2008 National Conference on Ethics in America.
Frances serves on many nonprofit and private sector corporate boards, including Mutual of America Life Insurance Company, the Bright China Social Fund, California Institute of Advanced Management, and Teachers College, Columbia University Presidents Advisory Council. She served as the Chairman of the National Board of Directors for Volunteers of America from 2002–2006. In December 2013 Volunteers of America honored Frances with the Maud Ballington Booth Legacy Award for a lifetime of pioneering social change.
Frances has been awarded Lifetime Achievement Awards from ATHENA International, Best Practice Institute, the Girl Scout Council of Greater New York, and the International Leadership Association. She has been inducted into the Enterprising Women Hall of Fame and is a Distinguished Daughter of Pennsylvania. Fortune Magazine named Hesselbein one of the World's 50 Greatest Leaders in 2015.
Frances is the recipient of twenty-one honorary doctoral degrees. She is editor-in-chief of the award-winning quarterly journal Leader to Leader and is the coeditor of twenty-seven books in twenty-nine languages. Frances has traveled to sixty-eight countries representing the United States. She is the author of Hesselbein on Leadership, My Life in Leadership and More Hesselbein on Leadership. Most recently, the Institute published an enhanced edition of Peter Drucker's The Five Most Important Questions: Enduring Wisdom for Today's Leaders.
"M2W® is annually attended by Fortune 1000 senior brand marketing executives and their agencies. The audience typically includes companies as diverse as Harley-Davidson, Bayer, Aetna, ESPN, Kraft Foods, Ford, GM, Johnson & Johnson, Kelloggs, Diageo, Walgreens, Wells Fargo, NBA, WebMD, Burton, L'Oreal, ConAgra and Whirlpool. They attend," McCann said, "because they recognize the brand-critical importance of engaging women. Their purchasing power is critical to the success of almost every brand in every major consumer category. Women are today's power consumers."
M2W® is presented by Google and supported by Associate Sponsors: Cooper Tires and John Zogby Strategies. Showcase Sponsors: World Kitchen, Pinterest, Piper Jaffray, Tribe Dynamics, Purse Power, House Party and VML. M2W®'s official bookseller is Paramount Market Publishing, M2W®'s video resource is Snippies.
For complete conference schedule and information visit: http://www.m2w.biz or call 860.724.2649 x13. M2W® is produced by PME® Enterprises LLC, 912 Silas Deane Highway, Suite 101, Wethersfield, CT 06109. PME® is a sales and marketing agency with a special emphasis on events.