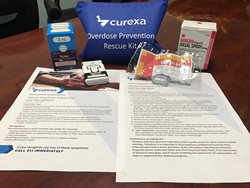 "Most patients will pay zero dollars out of pocket for a naloxone product," says Andrew Lyle, Director of Business Development
Egg Harbor Township, NJ (PRWEB) March 10, 2017
Curexa® Pharmacy, located in Egg Harbor Township, NJ as well as Chicago, IL, announced today that it has made naloxone available without a prescription. This availability is made in accordance to state pharmacy regulations and is in effort to save lives now. Naloxone is a lifesaving opioid antidote that is used in emergency situations. Naloxone is available as both an injectable and nasal spray.
Caregivers, emergency responders, as well as opioid users and their friends are able to access naloxone without a prescription beginning today. "Curexa is dedicated to increasing access to this lifesaving medication within our communities," says Dan DiStefano, PharmD Director of Pharmacy, "now more than ever, we are able to be on the frontlines of our pharmacy mission to help people."
Curexa's pharmacy efforts are centered around expanding access of medications to patients who need it most. Curexa's specialty pharmacy services includes programs for medications that lead to decreased costs for patients, while the compounding pharmacy services enable access to medications typically unavailable at other pharmacies. "Most patients will pay zero dollars out of pocket for a naloxone product," says Andrew Lyle, Director of Business Development, "our specialty pharmacy benefits verification process enables us to work directly with insurance companies and the product manufacturers to get this lifesaving medication into the hands of patients and caregivers now."
According to the Centers for Disease Control and Prevention, the United States is in the midst of an opioid overdose epidemic. Opioids, both prescription and heroin, has attributed to over 33,000 deaths in 2015. At least half of those deaths involve a prescription opioid medication. As an increase in opioid overdoses occur, naloxone should be in the hands of all those surrounded by opioid use. Loved ones and friends are now enabled and encouraged to help save a life.
Using naloxone is not a substitute for medical care and 911 should always be called whenever naloxone is administered. All overdose kits from Curexa® come with instructions on recognizing, preventing, and acting during an overdose situation. Prescribers are encouraged to write a prescription for naloxone for those who are at risk for an opioid overdose or being in a situation described as an opioid emergency. For anyone who is in need of naloxone can request a prescription from Curexa® Pharmacy though email, phone and in-person.
Curexa® (http://www.curexa.com), founded in 2003, is an independent specialty and compounding pharmacy holding multiple accreditations. Curexa® is currently licensed to practice pharmacy in 47 states. Our goal is to provide unique and cost-contained pharmacy services to patients. Your medications. Our priority.
Contact us today to see how we can help.
Contact: Andrew Lyle, Director of Business Development, 855.927.0390, 3007 Ocean Heights Ave, Egg Harbor Township, NJ 08234