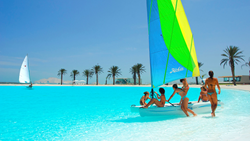 "The Crystal Lagoon amenity is a game changer for the community," said Darren Saltzberg, D.R. Horton's Tampa Division President.
Miami, FL. (PRWEB) March 09, 2017
The first Crystal Lagoon in the U.S. is already breaking records. Miami-based water innovation company Crystal Lagoons U.S. Corp will build four lagoon projects in partnership with Metro Development Group for their Metro Places residential communities near Tampa. Each crystal-clear lagoon is seven to 10 acres in size and the Epperson lagoon is slated for completion in late 2017.
The first Metro Places community, Epperson, will have around 2,000 homes upon completion. The developer has contracted the project's first 400 lots in record speed. D.R. Horton, the first active home-builder on site, began selling homes at unprecedented speeds, even before completing any model homes.
Metro Development Group President Greg Singleton said the response has been "incredible." Before the February construction preview, with only one billboard marketing the community, there were 2,753 interested home buyers on a wait list to live in the community. Immediately following the event, the total number of inquiries reached 3,278. Having hit sales targets in record time, home prices have been raised twice within ten days of the February event with additional price increases expected in the coming weeks.
"The Crystal Lagoon amenity is a game changer for the community," said Darren Saltzberg, D.R. Horton's Tampa Division President. "With several other new construction options in Wesley Chapel, it is clear the demand we are seeing is directly correlated to the Crystal Lagoon."
Metro Development Group and other top U.S. real estate developers have found that Crystal Lagoons provide real estate developments with substantial quantifiable benefits, such as increases in pricing, sales velocity, and higher rents.
Moreover, Crystal Lagoons is changing the real estate mantra of 'location, location, location.' The Epperson land parcel is further away from the path of growth for development and farther from the Tampa urban boundary than many other master planned communities. Because of the community's superior amenity package anchored by the Crystal Lagoon, it is enjoying superior pricing power and sales. Crystal Lagoons are proven to increase the rate of sales of real estate projects by more than 70 percent. The lagoon can also generate revenue for the Home Owners Association with beach club memberships, entrance fees, and waterfront dining and retail opportunities.
Since it announced the partnership with Metro Development Group, Crystal Lagoons U.S. Corp announced 14 projects from Florida to Nevada. According to an annual ranking of the 50 top-selling communities, Crystal Lagoons have become one of hot new amenities for successful master-planned communities in 2017. Homebuyers are looking for a healthy, active lifestyle and Crystal Lagoons provides a safe and fun environment to swim, paddle board, kayak, and even sail.
Crystal Lagoons U.S. Corp is expecting to sign about 20 projects in 2017 with a value of more than 5 billion dollars.
About Crystal Lagoons
Crystal Lagoons is an international technology company based in Miami, Florida that has developed an innovative concept and technology, patented in 190 countries, allowing for the construction and maintenance of unlimited size bodies of water in crystal clear conditions at low cost. Founded in 2007, Crystal Lagoons' impressive turquoise waters are revolutionizing not only the real estate world but also water and energy production. Applications range from bringing idyllic beach life to locations otherwise thought unimaginable, to providing industrial solutions for closed-circuit cooling systems for thermal power plants and data-centers, among others. For more information, please visit http://www.crystal-lagoons.com.
About Metro Development Group
A Tampa-based company founded in 2003, Metro Development Group is committed to bringing some of the most innovative technologies and amenities to homebuilders and homebuyers. With the introduction of the Connected City, Metro Places, ULTRAFi and Metro Lagoons by Crystal Lagoons, Metro continues to be the gold standard in the development of master planned communities. For more information, visit http://www.MetroDevelopmentGroup.com and http://www.MetroPlaces.com.