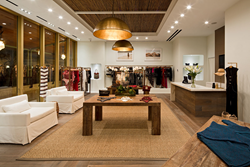 Miami, FL (PRWEB) March 10, 2017
The Brazilian luxury swim and resort wear company is debuting it's first retail store in the United States with the opening of the ViX Paula Hermanny store in Miami, Florida. Located at The Shops at Merrick Park in Coral Gables, the shop will feature the complete ViX collection including ready-to-wear, shoes, bags and exclusive collections available to this store only.
The brand is focused on expanding into strategic key US markets. Miami, a fashion, art and beach destination, will give women across the globe the opportunity to discover the brand's lifestyle concept. ViX currently has 10 stores throughout Brasil that serve as a one-stop shop for unique and distinguished resort and swim wear.
ViX Paula Hermanny's proven formula of great fit, fashion-forward silhouettes and elegant details that have made it a favorite among international fashion influencers like Miranda Kerr, Kate Middleton, Jessica Alba, Bella Hadid, Kate Moss and Gisele Bundchen. Her latest collection blends her sexy Brazilian roots with her casually elegant California style. ViX Paula Hermanny can be found in over 1000 specialty stores and luxury department stores in 28 countries.