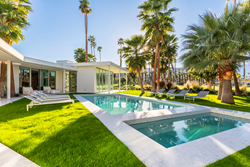 "The festival is incredible every year," Dash said, "But it's the privacy, luxury, elegance and the incredible residences around Coachella where so many great after parties, or gatherings happen."
(PRWEB) March 21, 2017
There are several ways celebrities squeeze the life out of Coachella, the biggest music festival of the year, but renting a regular hotel room for the weekend isn't one of them. And while one of the very cool things about Coachella is that regular folks can mix and mingle with famous celebrities, that doesn't mean celebrities choose to share floor space at the local hotels when the music winds down. Long before ticket lines are forming for the festival (2017 passes are already sold out!) celebrities are moving quickly to rent the best luxury homes in the area for the concert's duration.
"They're looking for luxury," said Lily Dash, the CEO of Villabound. Dash manages a portfolio of the world's largest and most luxurious villa estates in destinations renowned for their uniqueness, transcendental differentiation and exclusivity. She specializes in both the sale and short-term rental of villas and private homes for high profile clients. Many of the clients she works with are the power behind the high-end celebrity clients.
"For instance, I have a newly completed home in Rancho Mirage. It's a seven bedroom; seven baths home with more than 6,300 square feet of living space. It rents per weekend for in excess of $40,000. There's a $25,000 security deposit of course, but given that even for a weekend home away from home "location, location, location" is everything, I expect it to go fast," Dash said. Why? "Because there's no greater demand than an exclusive private home experience– especially around the Coachella Music Festival in April."
Even if celebrities are partying with members of the community during the festival, Hollywood insiders, and the 'rich and famous' like to stay in high-end luxury when the party winds down. "It doesn't matter if they're staying a weekend, a week, or investing in a long-term property, they expect the best," she said, "And we deliver."
Every year, the Coachella Musical Festival takes place at the Empire Polo Club in Indio, California. There are six different stages: the Coachella stage, Outdoor theater, Gobi, Mojave, Sahara, and Yuma. While the media and the public focus on the mixing, mingling, and music happening at the festival, few of them realize how much more goes on behind the scenes in the exclusive, multi-million dollar homes surrounding Coachella – before, during and after the festival. "It's where both fun and business gets done."
There's another small luxury. "You don't 'check out' of a luxury rental home like you would a hotel," Dash said. "From renting the home, to entertaining, enjoying it and finally leaving for your next festival or destination, it's a lifestyle that's about luxury, pacing and an 'oasis' experience.' Best of all, renting a luxury home means no paparazzi in the lobby and better security."