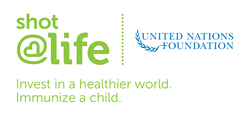 Washington, DC (PRWEB) March 20, 2017
For the third consecutive year, Astellas USA Foundation will continue to help support the delivery of measles vaccines to children in Latin America. To date, funding provided by the Astellas USA Foundation to the Shot@Life campaign of the United Nations Foundation has been used to help immunize more than 200,000 children in Latin America against measles as well as provide disease monitoring and surveillance that are essential to ensure that hardest to reach and most vulnerable children are vaccinated.
Measles, a highly contagious disease caused by a virus, kills nearly 135,000 children each year—that is more than 360 deaths every day. Children under the age of five living in poverty are especially susceptible to death and disability as a result of contracting the disease. However, coordinated worldwide vaccination efforts have made significant progress resulting in a 79% drop in measles deaths.
"Supporting access to health care and well-being is one of Astellas USA Foundation's core areas of focus. We are committed to working toward enriching the quality of life by promoting good health," said Moyra Knight, president of Astellas USA Foundation. "As we enter into the third year of supporting the Shot@Life campaign, we look forward to helping our society's most vulnerable access the care they deserve to grow up healthy."
In 2016, Latin America and the Caribbean became the first region in the world to have eliminated measles. This historic milestone represents decades of commitment from health workers, volunteers, and generous donors to ensure children across the region have access to life-saving vaccines. While the elimination has been an outstanding accomplishment, it is critical for the Region of the Americas to continue to reach all children to sustain high vaccination rates against measles and prevent outbreaks in the region.
"We are proud to partner with the Astellas USA Foundation to continue the fight to eliminate measles throughout Latin America," said Martha Rebour, Director of the Shot@Life campaign. "The funding provided by the Foundation will help support the delivery of measles vaccinations and extend the campaign's reach to all children in the regoin through strong immunizations programs."
Shot@Life, a campaign of the United Nations Foundation, educates, connects and empowers individuals to champion global vaccines as one of the most effective ways to save the lives of children in developing countries.
# # #
Contact
Anna Kavaliunas
Communications Manager, Shot@Life
akavaliunas(at)unfoundation(dot)org
570.259.2205
About Shot@Life
The United Nations Foundation's Shot@Life campaign collaborates with many organizations and corporations to broaden American support for childhood immunizations in developing countries against diseases like pneumonia, diarrhea, measles and polio. Together, these partners are working with Shot@Life to benefit UNICEF, the World Health Organization and other implementing partners to save lives and improve the health of millions of children around the world through life-saving vaccines. Go to ShotAtLife.org to learn more.
About The United Nations Foundation
The United Nations Foundation builds public-private partnerships to address the world's most pressing problems, and broadens support for the United Nations through advocacy and public outreach. Through innovative campaigns and initiatives, the Foundation connects people, ideas, and resources to help the UN solve global problems. The Foundation was created in 1998 as a U.S. public charity by entrepreneur and philanthropist Ted Turner and now is supported by philanthropic, corporate, government, and individual donors. Learn more at: http://www.unfoundation.org.
About Astellas USA Foundation
Astellas USA Foundation is a tax-exempt, non-profit corporation that awards grants to support charitable, scientific, literary and educational purposes. To learn more about Astellas USA Foundation please visit: http://www.astellasusafoundation.org.