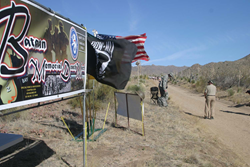 Las Cruces, NM (PRWEB) March 10, 2017
On Sunday, April 9, descendants of the veterans of Bataan and Corregidor, military personnel, and the community of Las Cruces will commemorate the 75th anniversary of the surrender of Bataan during World War II, at Las Cruces Veterans Memorial Park, site of the first federally funded memorial dedicated to the victims of the infamous Bataan Death March.
The event will memorialize the men of the New Mexico 200th Coast Artillery, a National Guard regiment that was surrendered in the Philippines along with 70,000 other American and Filipino troops on April 9, 1942. About half would not return home.
About 11,700 Americans, and as many as 65,000 Filipinos, began the 65-mile march from the Bataan Peninsula to Camp O'Donnell almost as soon as the surrender took place. Of those, between 600 and 700 Americans and between 5,000 and 10,000 Filipinos died on the march, though exact numbers may never be known. The causes of death were many, from malaria and dysentery to starvation and sheer exhaustion; others were shot, beheaded or suffered the "sun treatment" where they were forced to look toward the sun.
The ceremony, at 4 PM at Las Cruces Veterans Memorial Park, 1151 North Roadrunner Parkway, is modeled after the annual observation conducted at the State Capitol in Santa Fe by the New Mexico National Guard.
The origins of that ceremony began very informally in April 1946, when Bataan veteran and Santa Fe native Manuel Armijo, who had endured and witnessed some of the worst atrocities of any POW, asked a friend to hem a white flag, which he strung on a bamboo pole.
Without any permission, and without a word to anyone, Armijo went to the state capitol grounds in the cool morning of April 9. He lowered the U.S. flag in front of the capitol and replaced it with his white flag, and then stepped back for a few moments of contemplation before switching the flags back, folding up the white flag, and quietly going home.
He was soon joined by a few of his fellow Bataan vets as he continued performing his private ritual every year. It stayed that way until 1954, when a Santa Fe New Mexican reporter came upon Armijo when he was doing his ceremony at the Bataan memorial in its new location in front of what is now the Bataan Administrative Building.
The story ignited public interest in Bataan and the ceremony grew, ultimately becoming an officially sanctioned, annual event. Armijo expanded the simple ceremony in 1975 to include spoken text, a little music, and the lighting of three candles.
The ceremony includes a recorded spoken text called "The Voice of an American Boy," a first person recounting of the lost innocence of youth and the sacrifice of the American soldier. The ceremony concludes with the playing of "Taps."
Manuel Armijo took part in his ceremony every year until his death in June 2004. The New Mexico National Guard has committed to continuing to conduct the solemn ceremony exactly as Armijo and his fellow Bataan vets had designed it.
The ceremony at Las Cruces Veterans' Park will follow the exact sequence and employ the same elements as Armijo's ceremony.
It will take place at the Las Cruces Bataan Memorial, first federally funded memorial to the victims of the infamous Bataan Death March. Dedicated in 2002 and designed by Las Cruces artist Kelly Hestir, the "Heroes of Bataan" memorial features an eight-foot bronze statue of three soldiers on the Bataan Death March, as well as footprints of Bataan survivors imprinted in cement, and historical panels describing the New Mexico experience in Bataan.
That same year, the county commissions of Doña Ana and Otero counties dedicated Highway 70 from Las Cruces to Alamogordo as Bataan Memorial Highway (the frontage roads in Las Cruces are called Bataan Memorial east and west).
Since 1992, Las Cruces has also helped nearby White Sands Missile Range (WSMR) host the annual Bataan Memorial March, a 26.2-mile marathon, ranked as one of the top 30 in the US. There is also an alternative 14.2 mile course. The event draws thousands of active-duty military and civilian marchers who take part in a grueling trek through a desert course around WSMR. It is anticipated that nearly 7,000 marchers will participate in this year's event on Sunday, March 19.
The Bataan Memorial Death March is a challenging race through high desert terrain, conducted in honor of the heroic service members who defended the Philippine Islands during World War II, sacrificing their freedom, health and, in many cases, their very lives. Many of the soldiers defending Bataan were from New Mexico.
Marchers participate in the Bataan Memorial Death March for many reasons: personal challenge, the spirit of competition, or to foster esprit de corps in their unit. Some march in honor of a family member or a particular veteran who was in the Bataan Death March or who was taken as a prisoner of war by the Japanese in the Philippines.
There are more than three-dozen various memorials to Bataan, from traditional monuments to "living memorials" like schools and parks, scattered around towns and cities in New Mexico. All demonstrate the importance of Bataan to New Mexicans.
About Las Cruces
Nestled in southern New Mexico's Mesilla Valley between the Rio Grande River and Organ Mountains, Las Cruces is quickly becoming a popular southwestern destination. Visitors can experience 72 holes of spectacular year-round golf and world-class Mexican food along the Green Chile "Walk of Flame" and throughout the region, complemented by the Mesilla Valley Wine Trail and the Las Cruces Ale Trail. Birding, cycling and hiking draw outdoor lovers, and nearby White Sands National Monument is the only spot on the planet of its kind. The annual Las Cruces Country Music Festival celebrates its Fifth Anniversary April 27-28 2017, and Christmas in Cruces welcomes the holiday season in early December. Las Cruces blends a unique variety of such special events, attractions, culture and historical sites, as well as superb weather, with 350 days of sunshine per year. For more information on all Las Cruces has to offer, contact Visit Las Cruces at (575) 541-2150 or http://www.visitlascruces.com.
###
Note to Media: High-res images of the Memorial and Las Cruces are available.
Contact: Chris Faivre, Visit Las Cruces
cfaivre(at)las-cruces.org
575.541.2150