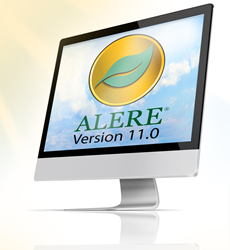 Imagine being able to easily exchange information with your employees, clients and business partners no matter where they are.
Easton, PA (PRWEB) March 23, 2017
ALERE Version 11.0, TIW Technology, Inc.'s powerful business applications software system, is now available for immediate implementation. The new release takes ALERE to the next level by integrating Accounting, Manufacturing, CRM, Data Acquisition, and all the other ALERE modules into one high-productivity business solution. ALERE is a well-established business software package that cost-effectively delivers industry-leading capabilities, functionality and value.
"ALERE Version 11.0 incorporates architecture to permit permission-based access to a company's vast ERP data using mobility devices such as smartphones and tablets," says Rod Hatcher, President, TIW Technology, Inc. "Imagine being able to easily exchange information with your employees, clients and business partners no matter where they are."
ALERE Version 11.0 is a single suite of business applications including ALERE Accounting, Manufacturing, InTouch CRM, Mobility, Data Acquisition, ALERE Cloud and more. Together, the applications provide an exceptional business management tool. More about ALERE capabilities.
"While all of our business applications are available in ALERE Version 11.0, companies can decide which modules they want to activate," says Hatcher. "They only pay for the capabilities applicable for their individual needs. They can be added or changed at any time."
While there are extensive new features, capabilities and functionality in ALERE Version 11.0, key updates include:

Fully-Integrated Modules – access all ALERE capabilities in one place.
New Ribbon Menus – for easier navigation and mobile device functionality.
Expanded Logins – for smart devices and customized screens.
Single-Purpose Apps – fully customized applications for mobile devices can provide permission-based access to a single, interactive function, such as order updating.
Numerous Refinements – many functions, screens, interfaces, etc., have been made even more user-friendly and efficient.
An extensive discussion of ALERE Version 11.0 updates, expansions and refinements can be found in ALERE's New Features brochure.
"ALERE Version 11.0 has the capabilities and functionality companies need in today's and tomorrow's business environment," says Hatcher. "It leverages real-time information access, mobility management, customized permission-based apps and more. It works the way you do."
Learn more about ALERE and connect with an ALERE professional at http://www.alerebusinessapplications.com.
Since 1983, TIW has been providing software solutions for businesses. Clients, who range in size from small operations all the way to world-class corporations, rely on applications from TIW. They do so because of the considerable experience that is used by TIW to develop sophisticated accounting and manufacturing products designed to fit the needs of their business. The TIW focus is on solving functional problems that are roadblocks to growing companies. TIW does this by placing an emphasis on the details that make day-to-day activities run smoothly. This approach is best exemplified in the ALERE Accounting product, which breaks new ground by incorporating functionality that, before now, has simply not been available to business users.