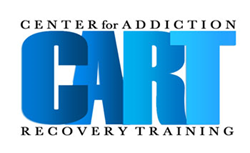 Is this the best way to determine if the applicant has all the necessary skills to serve as an effective recovery coach?
Hartford, Connecticut (PRWEB) March 13, 2017
The Center for Addiction Recovery Training (CART) has established a Recovery Coach Professional designation (RCP) to elevate the standard for recovery coaches worldwide. Through 8 years and over 1,400 trainings, CART has noticed that many recovery coach certifications focus on knowledge of the science behind coaching as their solitary qualifier. Other certifications require prospective coaches to accumulate a certain number of training hours, serve a number of hours in the role while being supervised, and finally the applicant must pass a written test. This may be a tried and true way to test other closely related professions, but is this the best way to determine if the applicant has all the necessary skills to serve as an effective recovery coach?
A recovery coach can act in many roles throughout the spectrum of social services. That said, the RCP designation has been designed to respect the science while testing the applicant's personal strategy and practice. CART will assess an applicant's knowledge of the science through 60 hours of CART-approved training ranging from Recovery Coach Academy to Ethical Considerations for Recovery Coaches. CART will also require a resume and/or written history of addiction recovery experience. The RCP application process will assess how a candidate puts this knowledge into practice.
CART is bringing back a live interview process that will more effectively measure a candidate's "art" as a recovery coach. During the interview, a panel of peers will assess whether or not the candidate is actively listening, asking good questions, managing personal biases, and treating recoverees as resources. CART believes that the removal of a written test will eliminate a large barrier that keeps perfectly qualified coaches from attempting the certification process while providing an improved way to measure competence.
The RCP also signifies a tested degree of professionalism and preparation to collaborate in any type of environment. As more entities (hospitals, providers, prisons, etc.) employ coaches, the RCP indicates a level of preparedness and expertise. The RCP designation (and CARTs entire curriculum) is available to all – people in recovery, families, friends, and allies. There is no certain length of time in recovery required.
For more information, visit CART's official website.