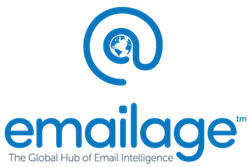 It's pretty much impossible to use internet services without an email address today," said Amador Testa, Chief Product Officer at Emailage. "When was the last time you opened an account, or bought something online without an email address?"
Chandler, Ariz. (PRWEB) March 10, 2017
In a time when increasing online fraud is costing companies billions of dollars each year, email risk assessment has emerged as a way to cut these losses without impacting customer experience. In the United States in 2016 alone, over $1 billion was prevented in fraud by using the technology combined with a syndicated network of global merchants.
This information was released by Emailage, the global leader in email risk assessment who became the backbone of email intelligence throughout many different industries and fraud platforms.
During 2016, Emailage analyzed a total volume amount of 100 billion USD from clients worldwide, flagging over 40 million high risk transactions from eCommerce, airlines, ticketing and financial institutions.
"It's pretty much impossible to use internet services without an email address today," said Amador Testa, Chief Product Officer at Emailage. "When was the last time you opened an account, or bought something online without an email address? We compare the email address to a digital passport, because it's the true global identifier used by merchants, cloud services and even operating systems."
With the rapid changes to the payment space driven by mobile devices, EMV and other solutions, online fraud will only continue to rise. Research by Aite Group predicts that by 2020 card-not-present (CNP) fraud will reach $7.2 billion in the U.S. alone. At the same time, customers are now demanding a seamless buying experience. Between these two trends, email risk assessment is expected to play a key role in expediting legitimate transactions without friction, while keeping fraudsters at bay.
Emailage is preparing to share their full results at the Merchant Risk Council Conference, March 13-16 in Las Vegas. To learn more, please contact Lindsay Hansen, PR consultant at press(at)emailage.com.
About Emailage
Founded in 2012, Emailage works with Fortune 500 financial institutions, merchants, businesses and organizations around the world to ensure everyday online transactions are easier, more efficient and more secure. Headquartered in Arizona, Emailage serves clients worldwide through its United States, Brazil and United Kingdom offices. They are the experts in email risk assessment tools and empowering fraud teams to increase profits by reducing fraud, lowering manual review costs and boosting acceptance rates. To learn more, visit: http://www.emailage.com.
###