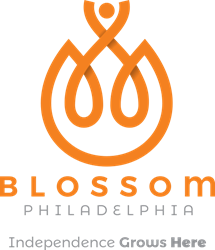 PHILADELPHIA, PA (PRWEB) March 13, 2017
After 70 years of serving its community as United Cerebral Palsy of Philadelphia (UCP), the organization announces it will officially change its name to Blossom Philadelphia, effective March 1, 2017.
"Last year, we launched a strategic planning project to take the pulse of how our name and logo have stood the test of time and to frame up a five year plan that would allow us to better serve the adults and children with disabilities in the Philadelphia area. We looked to a team of clients, volunteer board members, staff, parents, donors and families to help us understand not just our history, but what we wanted for our future," said Paula Czyzewski, Chief Executive Officer, Blossom Philadelphia.
In recognition of our progress and support along the journey, we are pleased to present our new name, Blossom Philadelphia and tagline, Independence Grows Here. This truly captures our mission: to help people with disabilities create the life they want to live.
For more information on Blossom Philadelphia, please visit http://www.BlossomPhiladelphia.org or call 215-242-4200 x609.
About Blossom Philadelphia, formerly United Cerebral Palsy of Philadelphia
In 1946, six parents from Philadelphia came together to make a better life for their children who had been born with cerebral palsy. These parents believed their children deserved more out of life and together, set out to change the lives of people with disabilities. Today, Blossom Philadelphia currently provides programs and services to people with a variety of physical, developmental, hearing, visual and speech impairments including autism, traumatic brain injury, Down Syndrome, spinal cord injuries, intellectual disabilities, or any physical condition that severely limits an individual's independent functioning. For more information: http://www.blossomphiladelphia.org