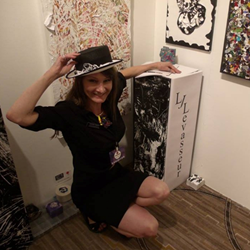 Let's Paint the World with Recycled Paint - LJL
(PRWEB) March 11, 2017
Canadian born business woman, Lisa Levasseur began painting in 2010 and quickly emerged an Artist. She is the creator of PaletteArt™ a new art form using 100% acrylic recycled paint to sculpt unique 3D one of a kind paintings. Now featured as a Modern Art & International Contemporary Master in magazines, books & exhibitions all over the world. Her work hangs in private & museum collections next to the likes of Picasso, Renoir & Dali.
She is set to hit the world stage at the Cannes Film Festival - International Modern Art Biennial, May 17-19, 2017 with Paks Gallery & MAMAG Museum. Her goal in promoting PaletteArt™ is to help other artists and get them involved in paint recycling. Forming an organization to encourage a social environmental art movement.
Arts and culture have the power to inspire people to see beyond borders, misunderstandings or differences and creativity can lead to peaceful changes. So imaging what can be accomplished by calling artists into action and giving them opportunities to help shape our world.
The mission is to help artists grow in spirit, mind and body, in their sense of responsibility to others, to help create valuable opportunities working together and have the same influence on our global community. They are motivating artists to get out there and help each other in promoting a more sustainable vision for mankind.
Already helping inner city kids through art therapy, teaching paint recycling and sponsoring artists who want to learn with career support from the ground up. They are also raising money for worldwide charity organizations, through donated art & gift sales. Promoting any artist creating recycled art with sponsorship & multi-media advertising.
She is now asking the world to hear her call and help support the PaletteArt™ organization. This is a way of giving back that creates win win opportunities and anyone can get involved. Her drive comes from knowing this success hasn't come easy and artists need all the help they can get. You can support the organization at http://www.patreon.com/LJLevassseur
"You're invited to help Paint the World with Recycled Paint" - LJL
Learn more at http://www.topcontemporaryartist.com