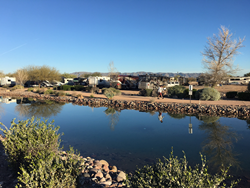 This represents the highest attendance figure since FMCA's Perry, Georgia, convention in 2011.
Cincinnati, Ohio (PRWEB) March 09, 2017
Family Motor Coach Association's 95th International Convention, running March 7 through 10 in Chandler, Arizona, is shaping into a well-attended event at a new venue for the association — Rawhide Western Town and Event Center.
The official motorhome count, released today, is 2,627. This includes 2,273 family-member motorhomes and 354 commercial motorhomes. This represents the highest figure since FMCA's Perry, Georgia, convention in 2011.
Twelve motorhome manufacturers are represented among the approximately 175 exhibitors on-site. The indoor exhibit hall includes around 235 supplier booths showcasing components, accessories, resort information, FMCA-affiliated services and more. The exhibits have been bustling each day during exhibit hours, augmented by a higher-than-usual influx of day visitors. These include FMCA members who are not parked at Rawhide, yet are choosing to participate in the activities via "passport" admission or simply to view the RV expo displays.
Rawhide Western Town and Event Center is hosting FMCA's first convention at a themed venue. The 80-acre property includes the appropriately titled Western Town, where FMCA has scheduled most of its 100-plus seminars. The sessions are being held in venues such as the Silver Spur, Branding Iron, and Moonshine Room.
Boarded sidewalks and strolling, costumed cowboys add to the character of the place. Attendees have been encouraged to "capture the moment," snapping and posting shots of themselves next to stagecoaches and other Western displays, and posting on social media with the hashtag #fmcaAZ17.
Western Town is closed to the public on weekdays, which has allowed FMCA to take advantage of the facility. On Friday, March 10, the town is transitioning back to a public attraction, offering a variety of eateries and gun-slinging-type entertainment from 5:00 to 10:00 p.m. Attendees will have a choice of seeing Western Town in full action or enjoying a performance by the Phoenix-based band Sapphire Sky.
Family Motor Coach Association (FMCA) is an international organization for families who own and enjoy the use of self-contained, motorized recreation vehicles known as motorhomes. The association maintains its national headquarters in Cincinnati, Ohio, and currently has approximately 70,000 active member families. FMCA offers its members a number of benefits, including a subscription to its monthly magazine, Family Motor Coaching; a medical evacuation and travel assistance program valued at $105 per family; group rates on a roadside assistance program and on motorhome and auto insurance; discounted rates for RV tours and caravans; and a tire purchasing program. Perhaps the most important benefit of FMCA membership is the camaraderie and friendships that develop among people enjoying the common interest of motorhome travel and recreation. The organization can be reached at (513) 474-3622 or (800) 543-3622 and on the Web at FMCA.com.