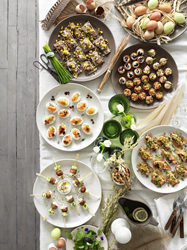 "Påskbord is an Easter tradition in Sweden that is celebrated with friends and family. We are very excited to invite everyone to join us in experiencing this special piece of our Swedish culture.
CONSHOHOCKEN, Pa. (PRWEB) March 13, 2017
As we welcome the beginning of spring, IKEA invites family and friends to celebrate the Easter holiday with its annual Swedish Påskbord. On Friday, April 7, 2017, join participating IKEA stores nationwide** for an all-you-can-eat smörgåsbord buffet filled with traditional Swedish classic food offerings such as Swedish meatballs, smoked salmon, assorted Swedish cheeses and many other savory favorites. Tickets are available for only $16.99 per person / $4.99 for kids 12 and under, or at a discounted rate for IKEA FAMILY members ($12.99 per person / $2.99 for kids 12 and under).
"Påskbord is an Easter tradition in Sweden that is celebrated with friends and family," says Patricia Meumann, IKEA Food Manager. "We are very excited to invite everyone to join us in experiencing this special piece of our Swedish culture."
The IKEA Påskbord menu*** includes:
First Course
Assorted herring
Hard boiled eggs with mayo and shrimp
Marinated salmon with mustard sauce
Smoked salmon with horseradish sauce
Poached salmon
Second Course
Assorted Swedish cheeses
Tossed green salad
Cucumber salad
Crispbread, crisp rolls, soft bread and thin bread
Third Course
Swedish meatballs and mashed potatoes or broiled potatoes with dill
Ligonberries
Jensson's temption
Swedish ham
Prinskorv
Desserts & Beverages
Assorted Swedish desserts and cookies
Fountain beverages and hot beverages
Seating is limited, so those who are interested in attending are encouraged to purchase tickets early at their local IKEA store. To locate and contact your nearest IKEA store for more details, including local seating times, visit the "Store Locator" page on http://www.IKEA-USA.com and enter your city/state or zip code.
Those who are unable to attend the event can still experience Swedish Easter traditions at home! Visit the Swedish Food Market in your local IKEA U.S. store to purchase select items from the Påskbord menu, including KÖTTBULLAR Swedish meatballs, or to explore and try ingredients for other Swedish recipes, such as salmon and avocado salad.
Salmon and Avocado Salad
Ingredients & Supplies

2 avocados
Approx. 5.25 oz. haricots verts
Mixed green salad
1 lime
Olive oil
Salt
Black pepper
Paprika
Chili powder
Directions

Bring 1 quart of lightly salted water to boil. Boil the haricots verts for 2 min., then keep under running water until cool.
Heat a frying pan or grill pan.
Season the defrosted salmon fillets with salt, black pepper, paprika and chili.
Grill each side of the salmon fillets for approx. 1 minute, high heat. Leave to cool.
Turn the beans with the green salad in a bowl and add olive oil, salt and black pepper. Squeeze half a lime in the bowl. Distribute the contents of the bowl on 4 plates and add pieces of the equivalent of half an avocado to each plate.
Cut salmon fillets into smaller pieces and distribute on the salad on each plate and serve. Add an optional sauce, for example SÅS PEPPARROT horseradish sauce.
IKEA FAMILY is a benefits program that offers membership perks including special product discounts, sneak previews, free coffee and tea in the IKEA Restaurant, and more. Consumers can sign up for the free program online or in-store.
** Not available at the IKEA Carson store.
*** Menu is subject to change due to product availability.
ABOUT IKEA
Since its 1943 founding in Sweden, IKEA has offered home furnishings of good design and function at low prices so the majority of people can afford them. There are currently more than 392 IKEA stores in 48 countries, including 43 in the U.S. IKEA incorporates sustainability into day-to-day business and supports initiatives that benefit children and the environment. For more information see IKEA-USA.com, @IKEAUSANews, @IKEAUSA or IKEAUSA on Facebook, YouTube, Instagram and Pinterest.