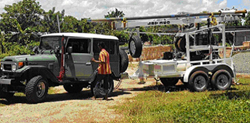 San Luis Obispo, CA (PRWEB) March 14, 2017
Jonny Herjawan of Jakarta, Indonesia, has business interests in surgery centers and virgin coconut oil production. He also chairs the Christian based organization JPCC Foundation. Bob Hather is a money manager and thirty year member of the rotary club of San Luis Obispo, California. Both strive to bring clean water to the 700 million people that are without it. Bob's approach to solving the problem was to develop a drill rig with advantages for drilling bore holes in developing countries. Jonny's challenges included transporting drilling equipment on the network of small barges connecting the 1000 inhabited islands in and around Indonesia with the capability to drill through rock.
In his search for a solution Jonny found the website for Lifewater Drilling Technology, the manufacturer for Bob's drill rig. Bob's portable drill rig had everything Jonny was looking for. Small enough to easily transport to the remote islands; a cable tool rig capable of drilling through rock with no risk of loosing circulation inherent with rotary rigs drilling through cavernous volcanic and limestone formations, the LDT 360 as its called, seemed perfect. So Jonny embarked on the 24 hour flight and drove for hours to drill a well with Bob using his new drill rig. Bob was drilling a 250 foot well that week. Jonny put on a set of coveralls and a hard hat and jumped right in. "It was exciting watching Jonny take over the drilling operation the first day," says Bob. One week of drilling sold Jonny on the LTD 360 rig. It was perfect for Indonesia's remote islands. There was only one problem; Bob hadn't yet begun commercial production of the rig yet.
The two men had developed a bonding relationship over that week. Jonny needed the rig and Bob needed a kick start to get his production going. So it was decided that Jonny would pay a 50% ($35,000) deposit for a rig that Bob expected to deliver in six months; a significant leap of faith. Right on schedule, the rig was finished in time for Jonny's arrival to ship it back to Jakarta in the 20 foot sea container. Back in Jakarta, Jonny was able to re assemble the 32 foot mast and prepare the rig for its first test hole. Initially Jonny ran into two problems: the trailer jacks were mounted too low for the local road conditions and there appeared to be a restriction in the hydraulic lines. With the help of communicating through Whats App along with Jonny's resourcefulness, both issues were resolved and Jonny went on to completing his first well.
The rig's next destination was set for Kupand, Timor Island. At the dock the rig was set on top of two cargo nets and hoisted onto the barge for the seaward journey. Upon arrival the rig was hooked up to the trailer hitch on the back of the Toyota and off to Pandhega Jaya High School and Dormitory. Drilling proceeded smoothly, boring a 9" hole through rock at the rate of 10 feet per hour for the first 150 feet. That is when the hydraulic motor blew out. Fortunately, the rig was designed to be serviced by no-mechanical types and Bob saw to it that Jonny received a new motor in a few days so drilling could resume. At 188 feet the well made good water and nothing but smiles were on everybody's faces when water gushed from the new well. With his group of dedicated volunteers, Jonny is ready for his next well.
Jonny Herjawan's continuing adventures in drilling with the LTD 360 are on Instagram https://www.instagram.com/p/BQjpIAPhkMK/?taken-by=jonnyherjawan&hl=en Bob's progress at developing drill rigs to provide a reliable source of clean water can be seen at http://www.lifewaterdrillingtechnology.com.